'The Magnificent Seven' Trailer: Denzel Washington And Chris Pratt In The Wild West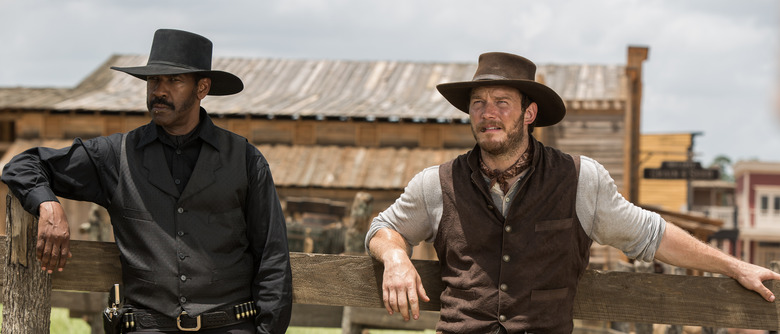 Yesterday brought us our first look at Antoine Fuqua's The Magnificent Seven in the form of some photos, and today the very first trailer has ridden into town. Denzel Washington leads the Western as Sam Chisholm, a gunslinger hired to protect a small town from a ruthless industrialist (Peter Sarsgaard). He rounds up a group of six other outlaws, played by Chris Pratt, Ethan Hawke, Vincent D'Onofrio, Byung-Hun Lee, Manuel Garcia-Rulfo, and Martin Sensmeier.
The Magnificent Seven is, of course, a remake of John Sturges' 1960 classic, which was itself a remake of Akira Kurosawa's Seven Samurai. So how do the likes of Washington, Pratt, and Hawke stack up against the original all-star cast that included Yul Brynner, Steve McQueen, and Charles Bronson? Watch the Magnificent Seven trailer after the jump.
The new Magnificent Seven has a lot to live up to, but thankfully the trailer makes this one look like a pretty fun adventure in its own right. It feels modern and classic all at once, full of loud gunfire, cool hats, tons of attitude (especially whenever Pratt opens his mouth), and just a touch of humor. Fuqua knows how to direct stylish action, and with this cast at his disposal The Magnificent Seven definitely looks worth watching.
The Magnificent Seven opens September 23.
Director Antoine Fuqua brings his modern vision to a classic story in Metro-Goldwyn-Mayer Pictures' and Columbia Pictures' The Magnificent Seven. With the town of Rose Creek under the deadly control of industrialist Bartholomew Bogue (Peter Sarsgaard), the desperate townspeople employ protection from seven outlaws, bounty hunters, gamblers and hired guns – Sam Chisolm (Denzel Washington), Josh Farraday (Chris Pratt), Goodnight Robicheaux (Ethan Hawke), Jack Horne (Vincent D'Onofrio), Billy Rocks (Byung-Hun Lee), Vasquez (Manuel Garcia-Rulfo), and Red Harvest (Martin Sensmeier). As they prepare the town for the violent showdown that they know is coming, these seven mercenaries find themselves fighting for more than money.