J.J. Abrams And Daisy Ridley Reunite For 'Kolma', To Be Directed By Marielle Heller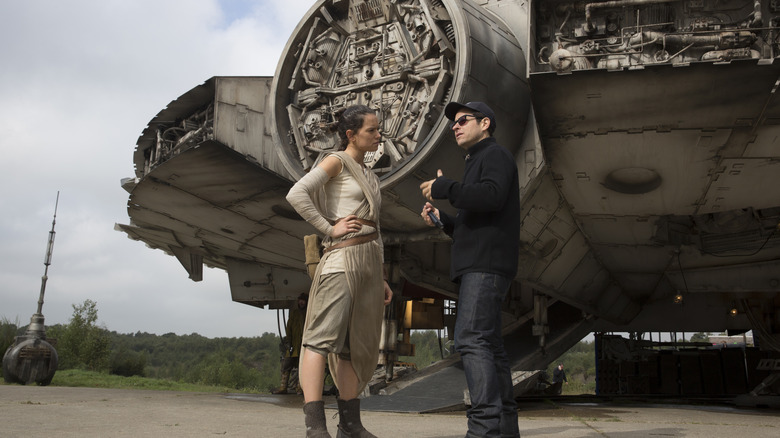 J.J. Abrams and Daisy Ridley first joined forces to explore a certain galaxy far, far way, but now they're looking to extend their relationship beyond the Star Wars universe. The pair are reuniting on Kolma, a fantasy thriller to be produced by Abrams' Bad Robot. But Abrams isn't directing this time around. Instead, that job will go to Marielle Heller, who broke out last year with the superb coming-of-age story Diary of a Teenage Girl. TheWrap writes that Kolma is based on a 2003 Israeli TV movie by Keren Margalit. Here's how they describe the story:
Described as a cross between a loftier, more mystical version of "The Notebook" and Albert Brooks' 1991 fantasy romance "Defending Your Life," the project follows a young couple who get in a car accident that leaves the man dead. Decades later, the old woman must choose whether to reunite with her long-lost love in the afterlife or return to the fateful day her life changed forever.
Megan Holley (Sunshine Cleaning) wrote the most recent draft of the script, following Rolin Jones (Weeds), Karen Moncrieff (The Trials of Cate McCall), and Sarah Polley (Away From Her). Abrams will produce with Ram Bergman (Star Wars: Episode VIII), Sherryl Clark (Cloverfield), and David Lonner (Dope). Kolma is expected to get a midrange budget around $60 or $70 million, "enough to allow for impressive visual effects while keeping the scale of the film relatively modest."
Ridley came out of seemingly nowhere to clinch the lead in Abrams' Star Wars: The Force Awakens, and has been in high demand ever since that movie turned her into a household name. Among other things, she's been rumored as the top pick for the new Tomb Raider reboot. But she's been choosy so far, perhaps because she quickly returned to work on Star Wars: Episode VIII directed by Rian Johnson. She's also expected to star in Episode IX, which is being directed by Colin Trevorrow.
Heller made a splash at Sundance 2015 with her directorial debut, Diary of a Teenage Girl, earning a Directors Guild of America nomination for outstanding first-time directors. (She ultimately lost out to Alex Garland for Ex Machina.) Kolma sounds like a great next step for her. Abrams and Ridley's involvement more or less guarantees this movie will get some strong buzz, and it sounds like a different sort of story that'll still benefit from the creative style and deep-seated empathy she demonstrated in Diary of a Teenage Girl.