'Fantastic Beasts And Where To Find Them' Stars Hint At Appearances From Characters You Already Know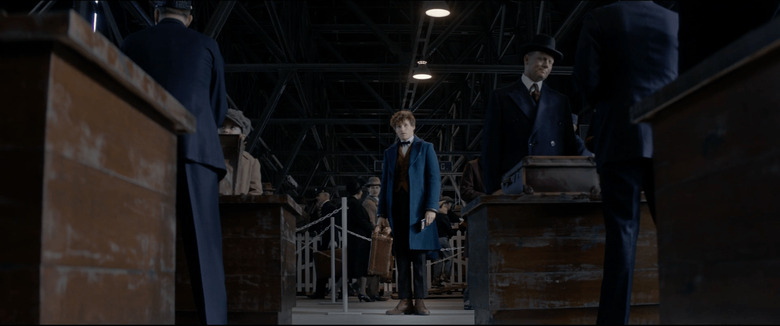 The latest trailer for Fantastic Beasts and Where to Find Them didn't feature many specific plot details and it didn't properly introduce the majority of the cast. What it did do was start to build the connections between J.K. Rowling's latest foray into her beloved Wizarding World and the Harry Potter movies, using familiar imagery, music, and names to let the more casual folks in the audience know that this movie exists in the same universe as Severus Snape and Hermione Granger. It just happens to take place a few decades earlier. The trailer even went as far as to mention a certain Albus Dumbledore.
Naturally, name-dropping the future headmaster of the Hogwarts School of Witchcraft and Wizardry got fans wondering – will any familiar faces actually show up in Fantastic Beasts and Where to Find Them? After all, it takes place an ocean and 80 or so years away from the Harry Potter movies.
MTV was on the case and they caught up with stars Alison Sudol and Dan Fogler at CinemaCon. After asking them about the Nibbler (the adorable little rodent-thing glimpsed in the trailer), each was quizzed about direct connections to the larger Potter-verse. Sudol, who plays Queenie Goldstein in the film, dodged the question effectively:
I wouldn't say there are a lot, but because it is its own world and it's also so much earlier, there are people who are alive.
But Fogler, who plays the series' first Muggle main character Jacob Kowalski, let a little more spill out after a brief struggle where his excitement overpowered his willpower:
You do meet...as the stories go along...you...you...I can't give it away! You will see, you will hear mention of your favorite characters and you may even meet their younger counterparts along the way.
Loose lips sink ships, Mr. Fogler. But the implication is clear enough: expect to see and hear more direct connections to known characters and locations in the new film. An appearance from Dumbledore would make sense, not only because he's directly mentioned in the trailer, but because the master wizard was born in 1881 and would be in his prime during the events of Fantastic Beasts and Where to Find Them. A cameo is not out of the question.
However, most of the Potter regulars aren't over a century old during the original series, so don't get your hopes up for too many appearances from beloved characters. At this point in the timeline, they are simply DNA floating around their parents' or grandparents' bodies. But then again, there's nothing stopping those parents or grandparents from popping into the story.
Fantastic Beasts and Where to Find Them is written by Rowling, directed by David Yates, and opens on November 18, 2016.