Jon Favreau Will Executive Produce 'Avengers: Infinity War'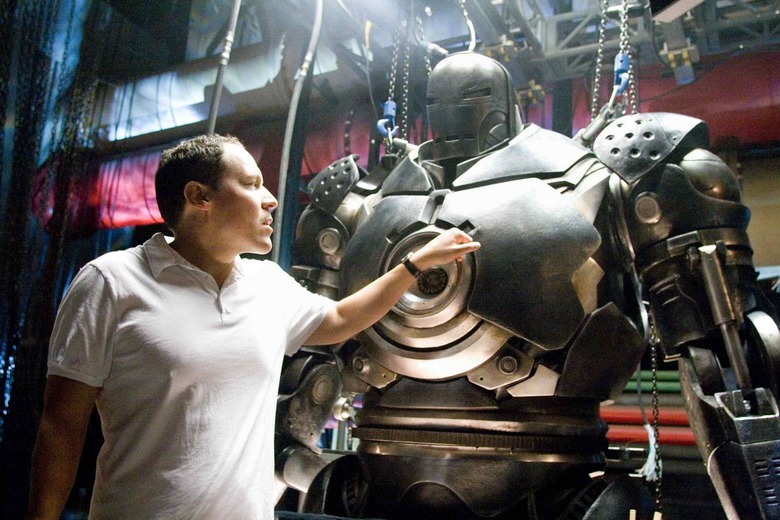 Before Jon Favreau was making money hand over fist for Disney with The Jungle Book, he was making money hand over fist for Disney with Iron Man, which of course went on to launch an entire Marvel Cinematic Universe. And although Favreau stopped directing Marvel movies after Iron Man 2, he continued to play a role in shaping the franchise as an executive producer on Iron Man 3, The Avengers, and Avengers: Age of Ultron.
In fact, this summer's Captain America: Civil War marks the first time Favreau won't be credited on a Marvel film prominently featuring Iron Man. But that doesn't mean he's done with the MCU. The filmmaker has just announced he'll be back as executive producer on Avengers: Infinity War, due out in two parts in 2018 and 2019. 
Favreau dished on his involvement with Avengers: Infinity War to Digital Spy.
I'm going to be executive producing the Avengers films with the Russo brothers, which I'm very excited about. I talk to them about it all the time. I've worked both in front of and behind the camera with Marvel and I really love what they're doing right now. It's a really exciting time to be over there. I've seen a rough cut of Civil War and it's fantastic. We're constantly looking for things to do together. And now I'm freed up.
Iron Man got the MCU started with a bang and established the tone of the franchise. Iron Man 2 had its charms, but got tripped up by its own mythology. Favreau went on to direct Cowboys & Aliens, Chef, and The Jungle Book after that, but through it all he's kept coming back to the Marvel Cinematic Universe. It's no surprise he and Marvel want to stay in business together — it's worked out fantastically for all parties involved.
To be clear, Favreau is only planning to produce Avengers: Infinity War, not direct them. (Joe and Anthony Russo have that job, as Favreau mentions above.) As of now, it doesn't sound like Favreau is in any big rush to direct another superhero movie. "The question is, do I want to do something else in the superhero genre?" he said. "I've spent a big chunk of my career working on that already. All new titles are coming out now."
Instead, Favreau plans to direct The Jungle Book 2, which he acknowledges seems like an odd choice for someone who just admitted how "tiring" it was to work on a big franchise like Iron Man. "I'm actually surprised I don't feel that way about The Jungle Book already, but with Iron Man, I'd done two back to back," he said. "My time was completely monopolized for those years and I wanted allowed to explore other things."
Avengers: Infinity War opens in two parts on May 4, 2018 and May 3, 2019. Favreau's The Jungle Book is in theaters now. No release date has been set for the Jungle Book sequel.