New 'X-Men: Apocalypse' Video Lets George Takei Explain The Origin Of En Sabah Nur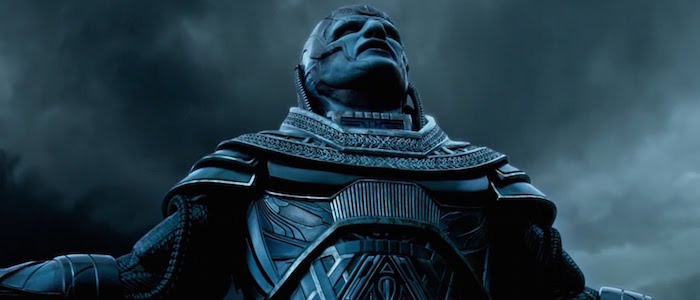 The origin story of En Sabah Nur, otherwise known as Apocalypse, was teased after the end credits of X-Men: Days of Future Past. Although that film took place in '70s and a dystopian future (with a brief stopover in the present day), the post-credits stinger took us back thousands of years to ancient Egypt, where a mysterious figure was using his telekinetic powers to singlehandedly construct the pyramids. It was a head-scratcher for the normal folks in the audience, but for comic book aficionados, it was a very clear promise of where things were going in the sequel.
The latest trailer for X-Men: Apocalypse featured scenes of Oscar Isaac in an Egyptian temple of some kind, so the new film will clearly touch on the title villain's origin story. However, 2oth Century Fox is getting the ball rolling early on this particular plot thread with a new viral video that dips its toe into the early history of the first mutant.
As far as brief viral videos go, this one is actually pretty clever. Produced to look like it was shot and edited in the 1980s (the setting of X-Men: Apocalypse), this faux ad for an upcoming TV special chronicling the legend of the world's first mutant has its fair share of charms. The spotty sound is on point, the cheesy production logo lands, and, most importantly, the whole thing is narrated by the great George Takei, whose voice is just pure bottled magic.
Naturally, the video only touches on the powers of En Sabah Nur/Apocalypse, which include telepathy, telekinesis, and the ability to manipulate his size and shape. While not mentioned by name, the video does feature some art that tips its hat to his "Four Horsemen," the hand-picked team that helps Apocalypse live up to his name. In this case, he has the support of Michael Fassbender's Magneto, Olivia Munn's Psylocke, Ben Hardy's Archangel, and Alexandra Shipp's Storm.
X-Men: Apocalypse opens on May 27, 2016 and will be the fourth X-Men movie directed by Bryan Singer. The film is intended to cap the trilogy that began with X-Men: First Class, although how it will affect that ever-changing, always-confusing X-Men movie continuity remains unknown. If nothing else, it certainly looks like the film will literally wipe great swaths of the franchise clean, allowing future movies to do anything else. If you want to clean house, you could do worse than calling upon a villain whose name implies mass destruction.