The Official Name Of Star Wars Land Revealed?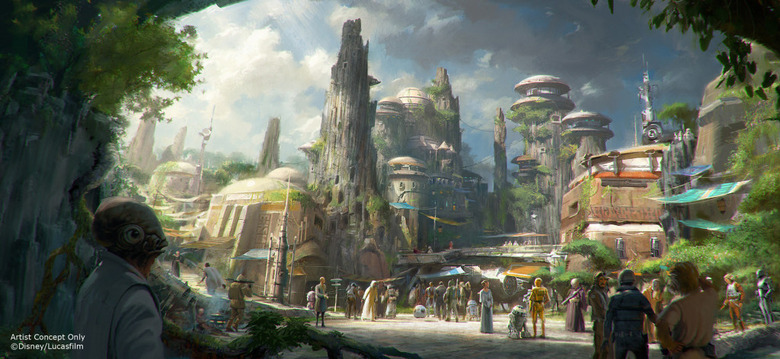 We've been reporting on Disney's Star Wars Land for years now, from the rumored development to the official announcement at D23 Expo 2015. But we still don't know the official name for this "gateway planet located on the outer rim," which is currently under construction in both Disneyland in Anaheim California and Hollywood Studios in Orlando Florida. Now, however, a good source claims to know what Star Wars Land will be called. Find out, after the jump.
The name of Star Wars Land will be....
The Star Wars Experience
This according to legendary Disney reporter Jim Hill, who dropped the bit on the latest edition of the Disney Dish podcast.  The idea is that this is not just a typical theme park land, but an insanely immersive experience that will bring park guests into the world of Star Wars.
Of course, the name is not confirmed until it's officially announced by the Mouse House. But it's worth noting that this isn't the first time we've heard this title. I did some research and Han Solo himself, Harrison Ford directly referred to Star Wars Land as "The Star Wars Experience" during the Wonderful World of Disney's "Disneyland 60" special:
A couple of blogs picked up on Ford's wording, though few assumed that it was anything more than a temporary title. But apparently Jim Hill has been told this is the title of the new Star Wars Land. The story concept is that the new area will be a planet in the outer rim of the Star Wars galaxy, so it makes sense that the new theme park land isn't referred to as a "Land" even though most of the other sections of Disneyland include that word in their title.
But I'm not sure I like the title "The Star Wars Experience," as it sounds like a rotating exhibition that appears in museums or a big special effects touring stunt show that plays in big arenas. But hey, at least it's not as bad as "Pandora – The World of Avatar," right? Again, this title has not been officially announced by Disney yet, so it could change — although Ford's wording leads me to believe that this is the current plan.
Star Wars Land promises to "bring this galaxy to life" through the combined forces of Lucasfilm and Disney Imagineering. Guests will have the chance to take "complete control" of the Millennium Falcon, and get caught up in the middle of a battle between the Resistance and the First Order. Or, if you're in the mood for something a little less adrenaline-pumping, you can walk around Star Wars Land "meeting droids and aliens," "entering an otherworldly street market," "actually tasting the local delicacies" (including blue Bantha milk), "going upscale at the planet's best dinner club," or "heading down to the local cantina."