Dave Franco Talks About His Han Solo Spin-Off Audition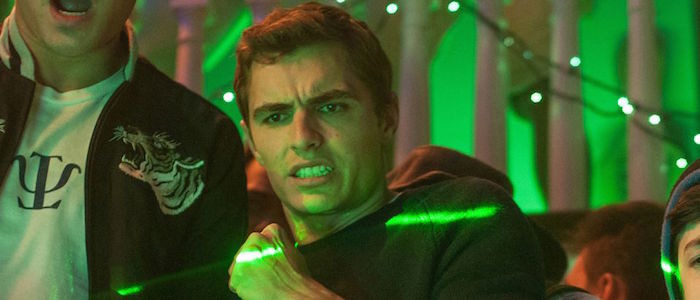 The giant hunt for the new Han Solo seems to be slowly drawing to a close, with Hail, Caesar! star Alden Ehrenreich reportedly emerging as the frontrunner to strap on that iconic vest last week. If he does nab the coveted role, he will do so after surviving an audition process that saw him measured up against countless other performers, from total unknowns to actors who have headlined their own movies, like Miles Teller and Taron Egerton.
One of the actors who auditioned for the role but didn't make the cut was Now You See Me and Neighbors star Dave Franco. Now that he's free of the process, he's talking about it. Just a little bit.
Franco was promoting Now You See Me 2 at CinemaCon when MTV asked him about his audition. Franco claims that he was kept in the dark and doesn't know much more than you or me:
I went in one time for Jeanie McCarthy, who I've auditioned for a million times before, and we just had a really fun time together in the room. And then because of the nature of what it is, it just explodes everywhere. Everyone's coming up and being like, 'Dude what's going on?' and I'm like, 'I don't know, you know as much as me!'
It's unlikely that Franco would have auditioned with sides from the actual Han Solo spin-off screenplay, so he certainly doesn't know any specific details about the movie. From this angle, it just sounds like directors Chris Miller and Phil Lord (who directed him in 21 Jump Street) were trying out all kinds of angles and all kinds of actors and decided to give Franco a shot. The final handful of names most likely had a more intensive and specific audition process.
Franco doesn't even know what they're looking for in a young Han Solo:
No, I'm not good with impressions or anything like that. I think that's the reason why it's so hard to cast this role. Do they want someone to perfectly embody who Harrison Ford is, or do they want to go a completely different route? Do they want someone to look really similar to him? I don't know, I think they're struggling with that.
I like Franco well enough, but it's hard to see him as Han Solo. Heck, it's hard to see anyone other than Harrison Ford as Han Solo, which is the number one challenge this movie faces. Ford may have been joking when he told all of the candidates for the role not to take it, but he has a point – every single person with an interest in movies and culture will have their eyes on whoever gets this part. So yeah, Franco is on point with that observation. I'd be worried if this casting process wasn't a struggle.
The Han Solo movie will arrive May 25, 2018.