'Equals' Trailer: Kristen Stewart And Nicholas Hoult Fall Into Forbidden Love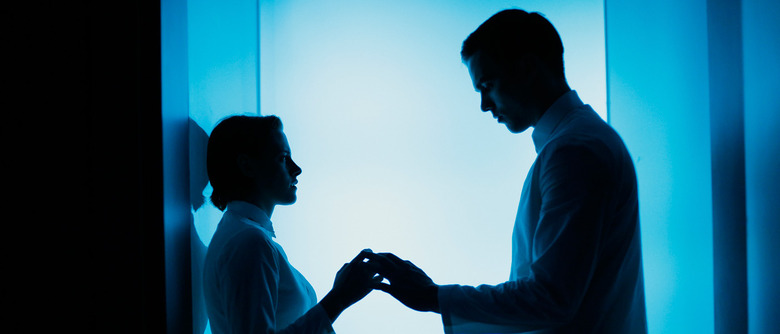 A lot of filmmakers have a certain theme they return to time and time again, and for director Drake Doremus it seems to be love in all of its messiness and complications. Like Crazy dealt with the long-distance relationship between an American and a Brit, and Breathe In with the love affair between a married man and a much younger woman. His latest film, Equals, pushes him into the sci-fi realm for the first time... but it's still a love story at heart, chronicling a romance that unfolds under the most inhospitable of circumstances.
Nia (Kristen Stewart) and Silas (Nicholas Hoult) live in one of those Apple Store dystopias that seem so popular at the cinema these days. All human emotion, including sexual desire, has been eradicated. But Silas and Nia begin to fall for each other when they catch a disease that sparks feeling in its victims, and strike up a dangerously forbidden romance. Watch the Equals trailer after the jump. 
From here, Equals doesn't look terribly original. It's a mishmash of Romeo and Juliet, THX 1138, 1984, Equilibrium, The Giver, and that "15 Million Merits" episode of Black Mirror. But it does look freaking gorgeous. The all-white aesthetic is really working here, and the colorful lighting has a gorgeous watercolor effect that heightens the romanticism of the whole affair. Hoult and Stewart aren't too hard on the eyes either, and their chemistry looks promising in the first trailer.
Reviews for Equals have been mixed, with naysayers calling it "dull" and "dumb," and fans praising its "erotic" charge and its "emotionally gut-punching" story. In short, how much you enjoy Equals may depend on your tolerance for slow-burn romance, and also your tolerance for familiarity. Those who want big surprises probably won't find it here, but those who just want to luxuriate in movie stars falling prettily, painfully in love should find plenty to feast on here.
Equals is still making the festival rounds, stopping at the Tribeca Film Festival before gets a limited theatrical release starting July 15. Jacki Weaver and Guy Pearce also star.