'Dean': Demetri Martin's Directing Career Gets Off To A Promising Start [Tribeca Review]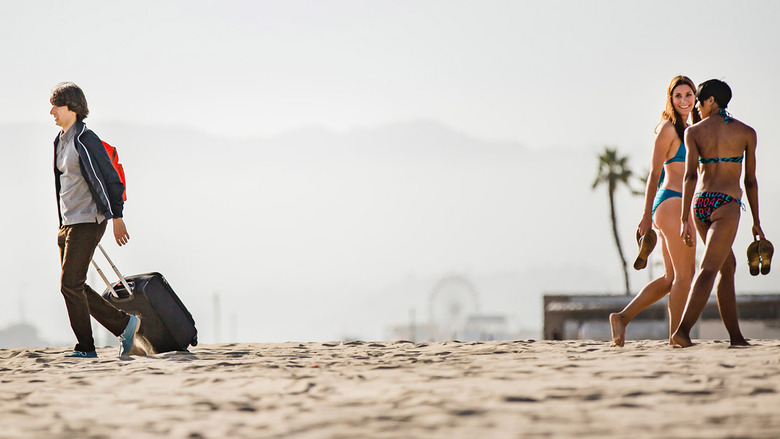 Stop me if you've heard this one before: a successful young(ish) creative type hits the film festival circuit with a semi-autobiographical dramedy about a somewhat less successful young(ish) creative type who struggles to pull his life together, grow up, and move on. That's the very familiar premise of comedian Demetri Martin's directorial debut Dean, which premiered this week at the Tribeca Film Festival. Fortunately, Dean's got a few fresher tricks up its sleeve that justify retracing this very familiar pattern.
One is that Dean is less about the precious ennui that all young(ish) creative types seem to suffer from in indie dramedies, than it is about the strange and complicated and even ugly process of grief. Another is a gently played subplot about Dean's father (played by Kevin Kline). And the third and perhaps most important are the many wry cartoons Martin uses to emphasize and comment on Dean's mental and emotional state. 
Between his stand-up, his Comedy Central show, his Daily Show run, and his appearances on shows like House of Lies and films like Taking Woodstock and In a World..., Martin should be a familiar face to even the most casual of comedy fans. Which is why it's initially disappointing that Dean, which Martin wrote, directed, and stars in, feels so familiar. It looks at first like Garden State with drawings, down to its mellow soundtrack, its self-indulgent protagonist, its two-dimensional supporting characters, and even its own version of a shirt gag. But those who stick with Dean through its slim 87 minutes will find an encouraging beginning to this new chapter in Martin's career.
Dean (Martin) is reeling from the death of his mother and his own broken engagement, unable to connect with his well-meaning father or finish the book of illustrations he's supposed to be working on. Even when he's drawing a jet-skiing adventure, the hooded figure of Death lurks in the background. But if Dean's a little depressed, a little lost, a little petulant, at least he's not a Google Glass-ed phony. "You don't look lobotomized like the rest of the guys at this party," a character says to him by way of a compliment.
When his father insists on a conversation about putting the family home on the market, Dean seizes an opportunity to fly out to Los Angeles to meet with an advertising agency. The meeting itself doesn't go well — the agency is staffed by perfect encapsulations of every negative stereotype you'd have about ad agency bros in Los Angeles, down to the random remote control car that seems to keep getting stuck in corners. But Dean decides to extend his stay after meeting Nicky (Gillian Jacobs), an intriguing woman unfortunately saddled with a best friend, Jill (Ginger Gonzaga), who seems determined to get in his way. Dean, of course, latches onto Nicky like a drowning man to a life preserver, even inviting himself and his pick-up-artist friend Eric (Rory Scovel) along on the women's weekend trip to San Francisco.
Meanwhile, Dean's father Robert grapples with the loss by attending therapy sessions, trying (and quite often failing) to stay active, and making efforts to move forward without his wife. He takes the leap of selling his house, which brings about another big leap in the form of a potential romantic connection with his friendly real estate agent Carol (Mary Steenburgen). Robert's subplot is one of the best parts of Dean, anchoring the film in a grounded empathy even as Dean himself sinks further and further into his own bitterness. Kline and Steenburgen have a relaxed sort of chemistry, and Martin captures the tentativeness of their attraction as well as the delight.
Throughout, Martin's simplistic, almost childlike drawings enhance the goings-on in Dean's life. Some of them are quick gags that serve only to make us laugh — a picture of the letter A, for example, with the middle part labeled "actual A-hole." Others poignantly illustrate Dean's state of mind, like one of a tiny cartoon Dean grasping for dear life to the West Coast as a tiny plane attached to his leg tries to drag him back east. They're the special spice that makes Dean feel a little more unique than your average "quarterlife crisis" dramedy, and at best they serve as gut-punching buttons to the scenes we've just seen. (At least, they're still pretty damn funny.)
The final third of Dean is where the grand total of Martin's vision comes into focus. Although Dean is in California running like hell from his problems, a series of events forces him to finally confront his own grief. And it's then that Dean reveals itself not as a movie about an authentic artist surrounded by contemptible caricatures and two-dimensional objects. It's a film about the way one lost soul projects his pain outward, until the entire world looks rotten — and about that soul's difficult journey back to the land of the living. It ends a sweeter, more meaningful film than it begins.
/Film rating: 7.0 out of 10