'Spider-Man: Homecoming' Cast Adds A Lobby Boy And A Soap Opera Star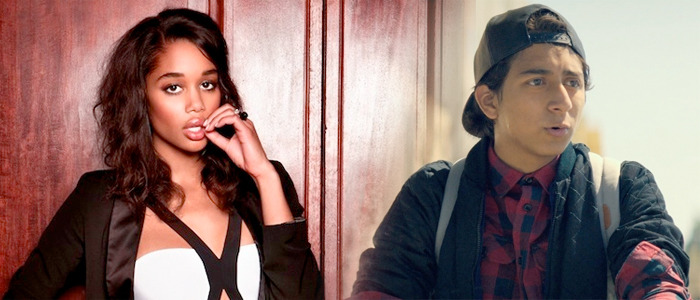 Just this past week, Michael Keaton was said to be in early talks to potentially play the villain of the forthcoming Spider-Man: Homecoming. The film will be yet another reboot of the comic book franchise, but this time the new version of the webslinger is one who will be part of the Marvel cinematic universe. Tom Holland (In the Heart of the Sea) is playing Spider-Man, who we'll see in Captain America: Civil War next month, and now he's been given a couple more co-stars to join him in high school. Find out the new additions to the Spider-Man Homecoming cast after the jump.
Deadline reports The Grand Budapest Hotel and Dope star Tony Revolori has landed a role while The Wrap reveals soap opera actress Laura Harrier (One Life to Live) has also joined the cast. It sounds like both talents will be playing students, but there are some conflicting details on one of their characters.
While there are no details on Harrier's role with the exception of it being a "significant" role, two different sources seem to have information that doesn't line up on Revolori's character. Deadline says the actor will be playing Peter Parker's high school nemesis, though it's not a character who becomes a super villain. However, The Wrap says that Revolori is playing Parker's friend Manuel. So we'll have to wait and see if Revolori is friend or foe.
Revolori and Harrier join a cast that also includes Disney Channel star Zendaya (Shake It Up, KC Undercover), who is said to be playing a classmate named Michelle, a girl that doesn't seem to be inspired by any specific comic book character for the time being.
Outside of the younger cast members, Marisa Tomei is also already on board to play Aunt May, the youngest big screen iteration of the character yet. She appears along with Tom Holland in Captain America: Civil War. In addition, Robert Downey Jr. has hinted that he might be involved in some capacity, and any other Marvel cinematic universe characters can show up to.
Production on Spider-Man: Homecoming is expected to begin this summer with Cop Car director Jon Watts behind the camera, working from a script by Vacation reboot writers John Francis Daley and Jonathan Goldstein. Focusing on Spider-Man's high school years, the comic book movie is said to be influenced by the films of John Hughes, which should give it a unique style from the previous iterations of Spidey.
Having just seen Captain America: Civil War, I can tell you that Tom Holland makes for an exciting, lively new Spider-Man, one that could be the best version of the character we've seen on screen so far. Here's hoping that Marvel and Sony can collaborate effectively to make the Spider-Man franchise something worth talking about again.
Spider-Man: Homecoming arrives on July 7, 2017.