New 'Pete's Dragon' Image Reveals A Massive Elliot The Dragon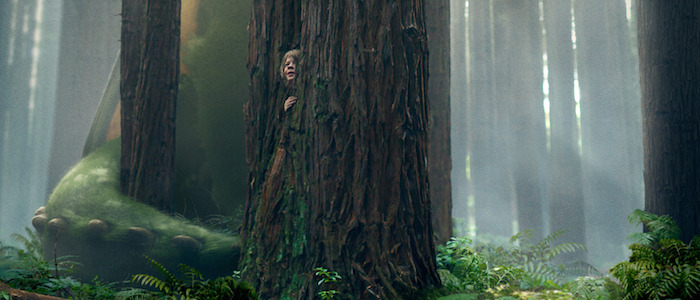 The teaser trailer for Disney's reimagining of Pete's Dragon showed just enough of Elliot the Dragon. The buildup and small glimpse of the creature was all audiences needed to see, at least in a teaser. Of course, Disney couldn't hide the titular dragon in the marketing forever, as great as that would've been.
Below, a new Pete's Dragon image contains most of the massive CGI character.
Entertainment Weekly scored the first big look at Elliot for their summer movie preview, in which director David Lowery (Ain't Them Bodies Saints) discusses the dragon's design as well. The 20-foot-tall character was inspired by all sorts animals, including an Australian flying fox.
Here's the big, green dragon in the flesh: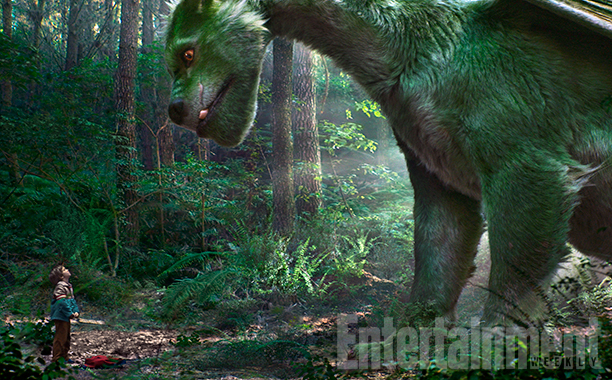 There's a notable lack of pink in this design. In the 1977 Disney film, the character had light green fur, with a dash of pink thrown in, but this version of Elliot looks just fine without it. The dragon's size, in particular, is striking. Half of Elliot isn't even in the photo.
Speaking with EW, Lowery discussed the character's design:
Certain things about the original design we loved: Big jaw, big snout, and a clumsy quality that we really wanted to not completely forget about. We explored pink, just to see what would happen. From the get-go, the aesthetic was always to make everything feel as handmade as possible, including effects. To really have it feel like a blur between a very grounded realistic world and a world in which a big green dragon that can turn invisible can exist.
Lowery and his team went for a more "canine" look. They wanted Elliot to appear soft and cuddly, not so much like a dragon that could potentially terrify young children. To bring that sense of playfulness and innocence to Elliot, Weta's team studied YouTube videos of animals. In fact, there's one video of a panda they watched over and over again for research. If you want to learn more about this new Elliot, head over to EW for further details.
Update: David Lowery tweeted his first sketch of Elliot. There are similarities between the drawing and the final design, although there is more of a sadness to Elliot's expression here:

Here's the official synopsis for Pete's Dragon:
For years, old wood carver Mr. Meacham (Robert Redford) has delighted local children with his tales of the fierce dragon that resides deep in the woods of the Pacific Northwest. To his daughter, Grace (Bryce Dallas Howard), who works as a forest ranger, these stories are little more than tall tales...until she meets Pete (Oakes Fegley). Pete is a mysterious 10-year-old with no family and no home who claims to live in the woods with a giant, green dragon named Elliott. And from Pete's descriptions, Elliott seems remarkably similar to the dragon from Mr. Meacham's stories. With the help of Natalie (Oona Laurence), an 11-year-old girl whose father Jack (Wes Bentley) owns the local lumber mill, Grace sets out to determine where Pete came from, where he belongs, and the truth about this dragon.
Pete's Dragon opens in theaters on August 12th.