Netflix And Marvel's 'The Defenders' Gets 'Daredevil' Showrunners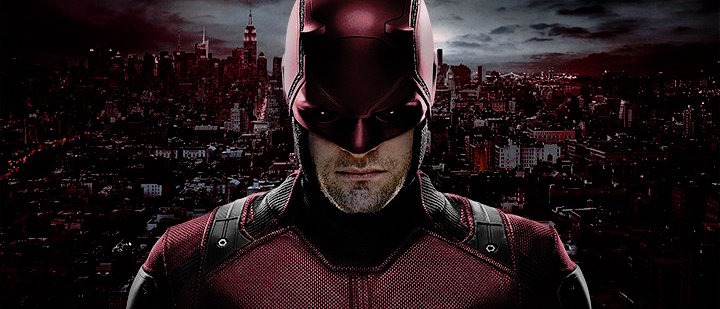 A few days ago, Daredevil star Charlie Cox let slip that Netflix and Marvel's The Defenders would be shooting by the end of the year. Now Marvel has officially announced the first step toward making that plan a reality. Douglas Petrie and Marco Ramirez, showrunners of Daredevil season 2, will be back to serve as showrunners on the original series, which unites Daredevil's Cox, Jessica Jones' Krysten Ritter, Luke Cage's Mike Colter, and Iron Fist's Finn Jones. 
Marvel dropped the Defenders showrunners news on its website. Daredevil's Drew Goddard is also on board as an executive producer, along with, of course, Marvel TV's Jeph Loeb. Said Loeb:
We're incredibly excited to be able to bring our four street level heroes together in an epic tale woven by Doug and Marco whose work on 'Marvel's Daredevil' speaks for itself. They write and produce not only great action and adventure, but also the heart and touch of humor that's makes us Marvel. With the inclusion of Drew Goddard, we've got a team that's as formidable as the Defenders themselves.
Added Petrie and Ramirez:
This is the big one. Four amazing casts, four amazing series, now all in one amazing story. We are thrilled at the opportunity to deliver the show that both we and the fans have been waiting for.
The Defenders was first announced as part of the Marvel-Netflix deal back in 2013, along with the four solo superhero series. It is billed as a "miniseries event," and it's unclear whether the possibility of additional seasons is on the table. While there's no word on when exactly The Defenders will hit Netflix, a late 2016 start would suggest a debut in the second half of 2017, likely after the premiere of Iron Fist.
Ramirez and Petrie have been part of the Daredevil staff since the first episode, and were promoted to showrunners in season 2 following the departure of season 1 showrunner Steven S. DeKnight. Season 2 had the pair juggling several heavy-hitting characters — in addition to Daredevil himself, the episodes also introduced fan favorites the Punisher (played by Jon Bernthal) and Elektra (played by Élodie Yung). That experience should come in handy when it comes time to bring all four of Netflix's Marvel superheroes together.
Daredevil season 2 premiered March 18. Next up will be Luke Cage season 1, due out September 30. A second season of Jessica Jones is also forthcoming. Iron Fist hasn't announced a release date, but looks likely to drop in late 2016 or early 2017.