'The Birth Of A Nation' Teaser Trailer: Nate Parker's Sundance Smash Hits Theaters This Fall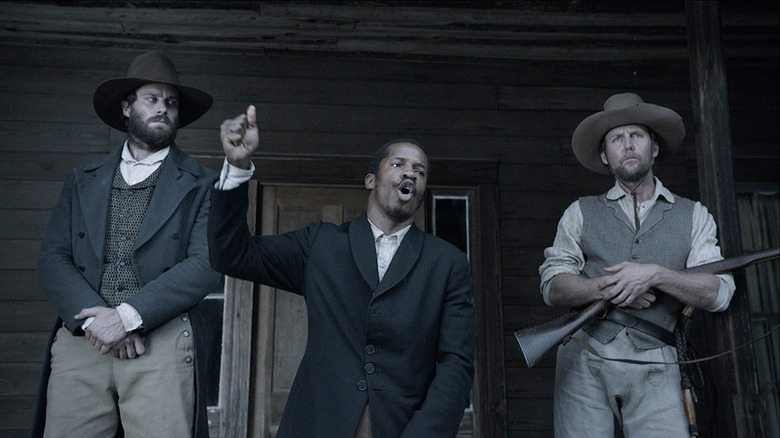 Of all the films that played at Sundance this year, perhaps none got more hype than Nate Parker's The Birth of a Nation. Not only did it get spectacular reviews, it scored the biggest Sundance deal ever, with Fox Searchlight forking over $17.5 million. The distributor promptly set Birth of a Nation for a fall release, right at the start of awards-movie season, and now it's getting a head start on the marketing by dropping the very first promo.
Parker stars in his own directorial debut as Nat Turner, a devoutly religious slave who becomes a traveling preacher — and, eventually, the leader of the bloodiest slave rebellion in American history. Armie Hammer plays Nat's owner, and Penelope Ann Miller, Jackie Earle Haley, and Aja Naomi King also star. Watch the Birth of a Nation trailer after the jump. 
The Birth of a Nation would be an ambitious effort for even an experienced director; that Parker managed to pull it off as his first film says impressive things about his talent and his determination. He's always been a rock-solid actor, and Birth of a Nation positions him as an up-and-coming director to watch as well. I caught the film at Sundance (you can read my full review here), and found that what it lacked in polish, it more than made up for with its powerful passion and its undeniable relevance. It's full of sadness and anger and ugliness, but it's not without hope and empathy. And it definitely looks destined to spark conversation for months to come, so keep this one on your radar.The Birth of a Nation opens October 7, 2016.
Set against the antebellum South, THE BIRTH OF A NATION follows Nat Turner (Nate Parker), a literate slave and preacher, whose financially strained owner, Samuel Turner (Armie Hammer), accepts an offer to use Nat's preaching to subdue unruly slaves. As he witnesses countless atrocities — against himself and his fellow slaves — Nat orchestrates an uprising in the hopes of leading his people to freedom.