Jackie Earle Haley Joins 'The Dark Tower' And 'The Tick'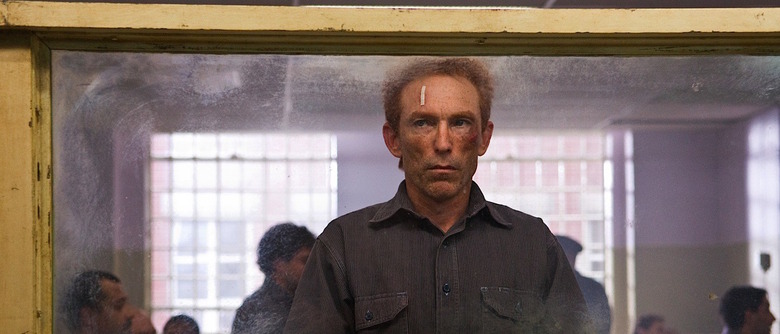 If you're the kind of person who adores comic book shows and fantasy movies — and judging by the fact that you're on /Film, we're guessing you are — prepare to see a lot of Jackie Earle Haley over the next couple of years. Not only is he set to star in AMC's Preacher, he's just snapped up roles in Amazon's The Tick and Nikolaj Arcel's Stephen King adaptation The Dark Tower. Not surprisingly, given his knack for playing colorful and creepy characters, he'll be playing villains in all of them. 
Let's start with The Dark Tower. Deadline reports Haley is in negotiations to play Richard Sayre, whom they describe as "a menacing humanoid who is the vampire leader and kowtows to no one." In the books, the character makes his debut in Wolves of the Calla — the fifth installment of King's eight-part saga — but as we've heard before, Arcel's film adaptation will be shaking up the structure, mixing and matching from different parts of the source material.
The Dark Tower stars Idris Elba as Roland the gunslinger, who chases the Man in Black (Matthew McConaughey) across a post-apocalyptic landscape in search of the Dark Tower, the nexus of all universes. Also starring are Tom Taylor as Jake Chambers and Abbey Lee as Tirana. The Dark Tower began shooting this week for release on February 17, 2017, so expect to hear even more casting news out of this one in the coming weeks.
Moving on, Deadline also broke the news that Haley is set to appear in Amazon's The Tick, a revival of the brilliant-but-cancelled 2001 superhero series from Ben Edlund. The Tick only has a pilot order from Amazon right now, but if it get picked up to series Haley will be a regular. Peter Serafinowicz leads as the new incarnation of the bright blue musclebound superhero (replacing Patrick Warburton), and Griffin Newman plays his sidekick Arthur. Valorie Curry is Arthur's sister Dot.
Haley will be The Terror, the supervillain leader of a league of evil. He's "our world's epitome of the criminal mastermind, a hooded ancient villain barking at his minions whose incredible will power and tenacity have powered an underworld syndicate for decades." The character appeared in one episode of the earlier incarnation of The Tick live-action series, where he was played by Armin Shimerman.
All of this follows the recent news that Haley was cast as bad guy Odin Quincannon in AMC's Preacher series. Haley, an Oscar nominee for Little Children, is also known for playing Rorschach in Zack Snyder's Watchmen and Freddy Kreuger in the Nightmare on Elm Street remake. Outside of the genre realm, Haley will be seen later this year in Nate Parker's Sundance smash hit Birth of a Nation.