'The Neon Demon' Trailer: Elle Fanning Unleashes Her Dark Side For Nicolas Winding Refn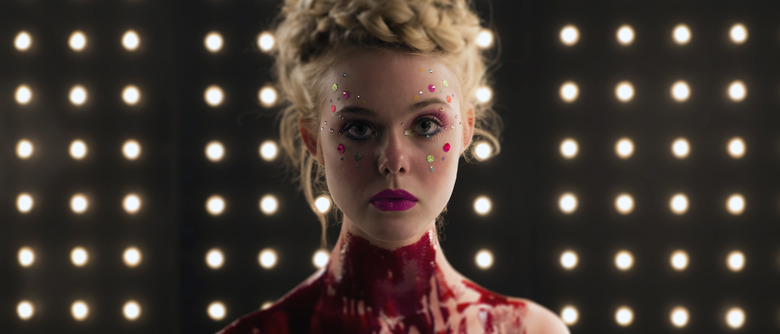 Elle Fanning does "sweet and innocent" really well, as we've seen in films like Maleficent and Super 8. But her next film, The Neon Demon, will let her show off a darker edge. Fanning plays a young aspiring model named Jesse, who gets caught up in the thrill and the horror of the LA scene. And Nicolas Winding Refn directed it, so you know you can look forward to drinking in some neon-saturated gorgeousness. Watch the first Neon Demon trailer after the jump. 
The trailer is vague about the plot of the movie, emphasizing dreamy (or nightmarish) visuals over narrative details. But Refn's been talking about this film on and off for years, so it's not a total mystery. Here he is discussing the concept and the premise in 2014:
One morning I woke and realized I was both surrounded and dominated by women. Strangely, a sudden urge was planted in me to make a horror film about vicious beauty. After making Drive and falling madly in love with the electricity of Los Angeles, I knew I had to return to tell the story of The Neon Demon. This movie is a manifestation of the strong ties between us and will lead to many more adventures.
Refn's wife Liv Corfixen has additionally revealed that the film is inspired by Elizabeth Báthory de Ecsed, a 16th century countess considered one of the most prolific female murderers who ever lived. Báthory is the one rumored to have bathed in the blood of virgins to maintain her appearance, which seems appropriate given that The Neon Demon is all about women obsessed with youth and beauty.
Abbey Lee (Mad Max: Fury Road) plays a fellow model with a violent side, and Christina Hendricks, Keanu Reeves, Jena Malone, and Bella Heathcote also star. The new Neon Demon trailer arrives hot on the heels of this morning's announcement that the film will have its world premiere at Cannes next month. There's still no word on when it'll hit U.S. theaters, but fingers crossed distributor Amazon will roll it out sooner rather than later.