'The Dark Tower' Has Begun Filming (And The Idle Speculation Followed)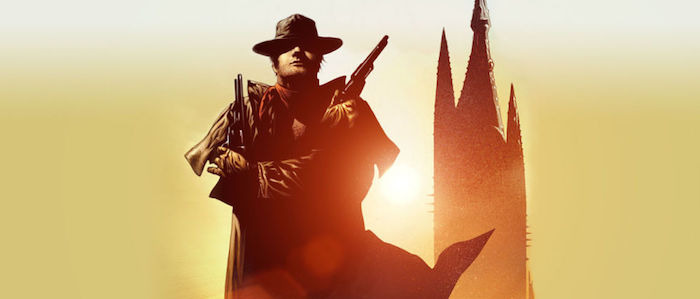 After years of false stars and ambitious franchise plans that never came to fruition and a revolving door of talent that saw the likes of Ron Howard and Javier Bardem board the project and exit, the film adaptation of The Dark Tower has finally begun filming under director Nikolaj Arcel. As a fan of Stephen King's magnum opus book series, a wild combination of science fiction, horror, and fantasy that unites all of his work in one universe, I will be watching this production closely, eyebrow ready to rise at a moment's notice. To paraphrase Roland the Gunslinger: I do not prematurely criticize with my laptop; he who prematurely criticizes with his laptop has forgotten the face of his father. I prematurely criticize with my heart.
This news was announced at CinemaCon in Las Vegas, but the announcement was accompanied by little fanfare. Anyone hoping for a big first look at the cast in costume or even a teaser image will be let down – all we have is news that this is actually happening. For real. No joke. Someone actually pulled the trigger on a Dark Tower movie.
Since cameras are rolling, that means we can't be too far from getting a glimpse of Idris Elba as Roland the last Gunslinger, a weary cowboy/knight who crosses a post-apocalyptic landscape (and eventually other dimensions) as part of his quest to reach the Dark Tower, the nexus of all possible worlds. Matthew McConaughey will play the mysterious Man in Black, otherwise known as Walter Padick and Randall Flagg and countless other aliases, Roland's nemesis. Newcomer Tom Taylor will play Jake Chambers, the young boy from our world who joins Roland's journey and becomes a surrogate son to the pistol-packing warrior.
Stephen King himself also chimed in on Twitter to celebrate the start of principal photography, reminding his followers that an adaptation of his epic horror novel It is also about to before cameras.
THE DARK TOWER movie is filming; IT begins soon. Pretty cool.

— Stephen King (@StephenKing) April 13, 2016
MTV caught up with McConaughey at CinemaCon, where he explained why he was attracted to a character like the Man in Black:
I'm not a big sci-fi buff... this one came along, though. The man in black, I looked at that and said, 'Oh, I can be whoever I want to be in this one.' I'm not sure who I'm going to be yet.
Considering the sheer number of identities the character collects, McConaughey can literally play this character in a hundred different ways and still capture what makes him such a fascinating and menacing figure.
The Dark Tower, which will combine elements of the first three books in King's series, will hit theaters on February 17, 2017.