Michael Keaton Will Play 'Spider-Man: Homecoming' Villain After All [UPDATED]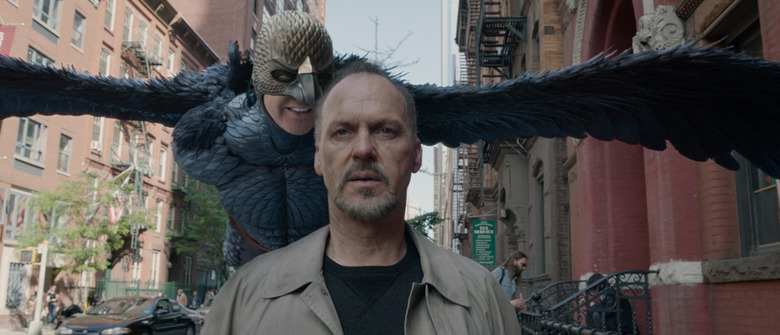 UPDATE #2: On April 13th, 2016 it was reported that Michael Keaton was in early talks to join Spider-Man: Homecoming. A week later we learned that the talks had fallen through. Well, it's a month later and things have changed once again.
According to THR, Michael Keaton is now in final negotiations to join Spider-Man: Homecoming as a villain. Apparently Marvel's "initial overtures towards Keaton didn't get past the offer stage" and the company "moved on to other actors before returning to Keaton." It's unclear which villain Keaton will play in the new film although BDM had previously reported that the Vulture will be one of the film's bad guys and that doesn't seem like a stretch for the former Birdman/Batman star.
Angie's original story from April 13th 2016 follows:
UPDATE #1: Alas, Michael Keaton will not star in Spider-Man: Homecoming after all, reports The Hollywood Reporter's Borys Kit. Original story from April 13, 2016 follows.
The former Batman and Birdman could be suiting up for another comic book movie role. Michael Keaton is reportedly in early talks to join Spider-Man: Homecoming opposite Tom Holland as the new webslinger. But whereas he's played costumed heroes in the past, this time he'll be crossing over to play the bad guy.
Variety broke the news about the Michael Keaton Spider-Man casting. Details are being kept under very tight wraps and as of now we don't know which character Keaton is playing. (For what it's worth, there was a rumor going around recently that the Vulture could be one of the antagonists appearing in Spider-Man: Homecoming.) Also starring in the film are Marisa Tomei as Peter Parker's Aunt May, and Zendaya in a mystery role as "Michelle."Jon Watts (Cop Car) is directing Spider-Man: Homecoming from a script by John Francis Daley and Jonathan Goldstein. Marvel's Kevin Feige has likened the latest Spider-Man reboot to a John Hughes film, and word is this Spider-Man will not only look and act younger than previous incarnations, he'll feature more of the quippy humor that his comic book counterpart is known for. Oh, and it won't be an origin story, which means we may not have to watch Uncle Ben die in front of our eyes all over again.
Keaton earned an Oscar nomination last year for his lead performance in Birdman, which played off of Keaton's own history as a leading superhero in Tim Burton's Batman and Batman Returns. He was in the awards conversation again this past winter with eventual Best Picture winner Spotlight, and seems poised to scoop up still more accolades as McDonald's head honcho Ray Kroc in John Lee Hancock's The Founder. He's additionally expected to reprise his role as Beetlejuice whenever that sequel gets going.
Spider-Man: Homecoming is expected to shoot this summer for release in July 7, 2017, although Spider-Man himself makes his Marvel Cinematic Universe debut next month in Captain America: Civil War.