'Battle Of The Sexes' First Look: Emma Stone And Steve Carell Prepare To Face Off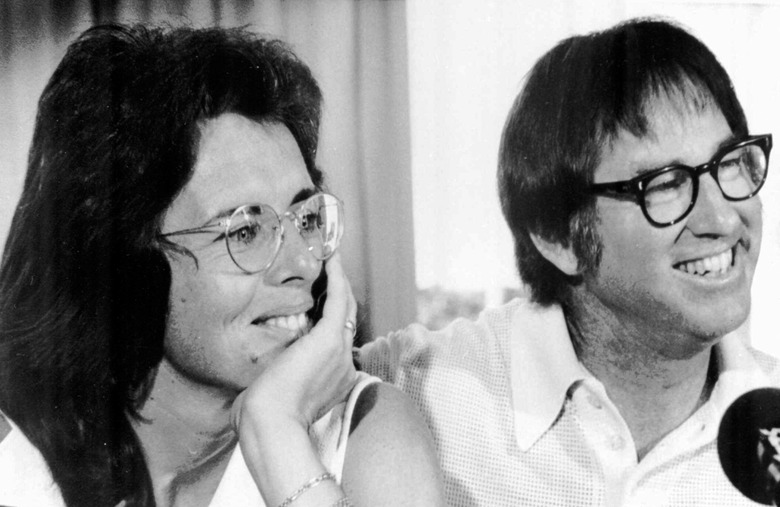 After starring together in Crazy, Stupid, Love., Emma Stone and Steve Carell are reuniting on the set of Valerie Faris and Jonathan Dayton's Battle of the Sexes. The pic centers on the 1973 tennis match between Billie Jean King and Bobby Riggs, which became a focal point for larger conversations about sexism, feminism, and gender equality — not to mention an instantly iconic event watched by tens of millions of people around the world.
Shooting on Battle of the Sexes has just begun, and to celebrate that fact, Fox Searchlight has unveiled the first photo of Stone and Carell in their very best '70s garb as the athletic opponents. Get your Battle of the Sexes first look, along with some new casting details, below.
The header image above is an actual photo of King and Riggs at a Battle of the Sexes press conference in 1973. Below are Stone and Carell recreating that scene in Dayton and Faris' movie. I tend to think physical resemblance is overrated when it comes to biopics — capturing the spirit and energy of the subject seems more important than recreating their exact physical features — but this is pretty spot-on. The real King seems impressed, anyway.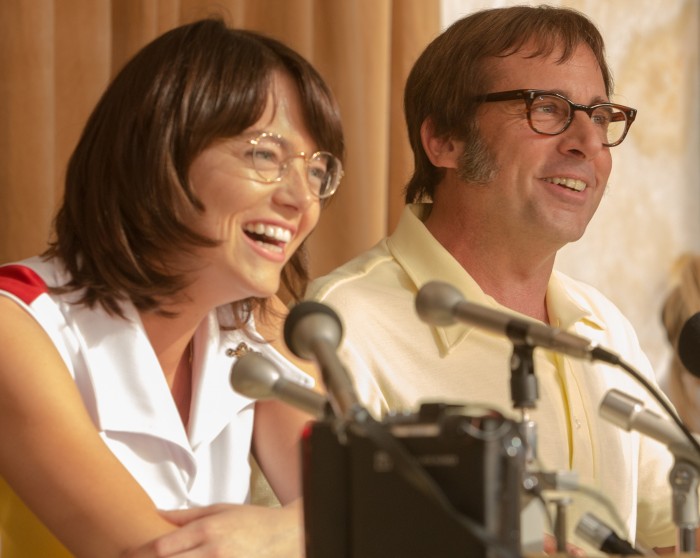 Also starring are Elisabeth Shue as Riggs' wife; Austin Stowell as King's husband; Sarah Silverman as World Tennis magazine founder Gladys Heldman; Alan Cumming as King's dress designer and fellow tennis player Ted Tinling; Andrea Riseborough as King's ex Marilyn Barnett; Eric Christian Olsen as Riggs' friend and fellow tennis player Lornie Kuhle; Natalie Morales as tennis player Rosie Casals; Jessica McNamee as tennis player Margaret Court, who played Riggs before King did; plus Wallace Langham, Mickey Sumner, and Bill Pullman.
The event was previously dramatized in a 2001 TV movie starring Holly Hunter and Ron Silver, but suddenly it's become a favorite subject in Hollywood. Last we heard, Battle of the Sexes was one of three King vs. Riggs projects currently in the works — there was also HBO's untitled movie starring Paul Giamatti and Elizabeth Banks, and Chernin Entertainment and Gary Sanchez's Match Maker starring Will Ferrell.
Battle of the Sexes should be hitting the court sometime next year. Danny Boyle is producing along with Robert Graf and Christian Colson. Simon Beaufoy wrote the script.
Directors Jonathan Dayton and Valerie Faris, creators of the Oscar-winning LITTLE MISS SUNSHINE and indie favorite RUBY SPARKS,have turned their attention to a period in 1970's America that presaged a cultural tsunami.  
The electrifying 1973 tennis match between World number one Billie Jean King (Emma Stone) and ex-champ and serial hustler Bobby Riggs (Steve Carell) was billed as the BATTLE OF THE SEXES and became the most watched televised sports event of all time. The match caught the zeitgeist and sparked a global conversation on gender equality, spurring on the feminist movement. Trapped in the media glare, King and Riggs were on opposites sides of a binary argument, but off-court each was fighting more personal and complex battles. With a supportive husband urging her to fight the Establishment for equal pay, the fiercely private King was also struggling to come to terms with her own sexuality, while Riggs gambled his legacy and reputation in a bid to relive the glories of his past. Together, Billie and Bobby served up a cultural spectacle that resonated far beyond the tennis courts and animated the discussions between men and women in bedrooms and boardrooms around the world.