Star Wars Bits: Ahsoka Tano Gets A Book, 'Star Wars Rebels' Questions Answered, And The Secrets Of Building A Great Lightsaber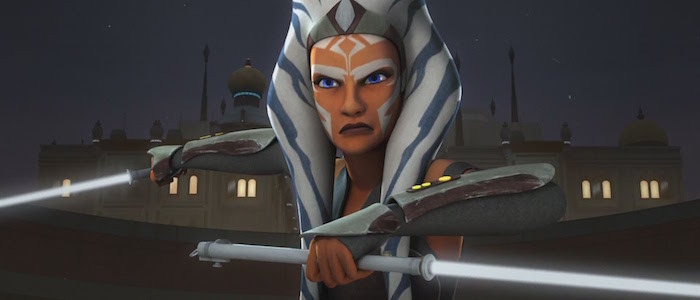 In today's edition of Star Wars Bits:
Our own Peter Sciretta stops by the Collider Jedi Council.
Ahsoka Tano is getting a novel to explain where she went for thirty years.
Star Wars Rebels executive producer Dave Filoni answers some burning questions.
Sabine Wren will have more to do in Star Wars Rebels season three.
Read an excerpt from Star Wars: Aftermath – Life Debt.
Walt Disney World teases its new Star Wars-themed half marathon.
A look at the industry of creating cool lightsaber props for fans.
And more!
/Film's own Peter Sciretta was recently a guest on Collider's Jedi Council show, where he joined host Kristian Harloff and fellow guests John Campea and Mark Reilly to talk about all things Star Wars. In this edition, they cover the possibility of an Obi-Wan Kenobi spin-off movie, Adam Driver's recent comments about Star Wars: Episode 8, the season finale of Star Wars Rebels and more.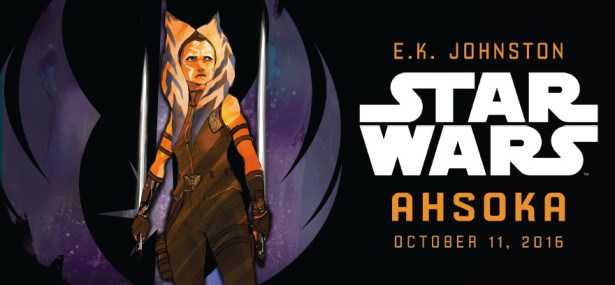 So, what exactly happened to Ahsoka Tano in the thirty years between Star Wars: The Clone Wars and Star Wars Rebels? A new young adult novel, due out later this year, will explore this time period and continue to fill in the gaps of the new Star Wars canon. Here's the official synopsis:
Ahsoka Tano, fan favorite character from Star Wars: The Clone Wars and Star Wars Rebels, will be the star of her own young adult novel from Disney Lucasfilm Press this October 11, 2016! Fans have long wondered what happened to Ahsoka after she left the Jedi Order near the end of the Clone Wars, and before she re-appeared as the mysterious Rebel operative Fulcrum in Rebels. Finally, her story will begin to be told. Following her experiences with the Jedi and the devastation of Order 66, Ahsoka is unsure she can be part of a larger whole ever again. But her desire to fight the evils of the Empire and protect those who need it will lead her right to Bail Organa, and the Rebel Alliance....
Author E.K. Johnston had this to say about the book:
Writing for Ahsoka is tremendously exciting. She has a blank spot in her story that I know a lot of fans (including myself!) want to see filled in. And being able to help tell her story is a dream come true.
Star Wars: Ahsoka will hit shelves on October 11, 2016. That art seen above, from Star Wars Rebels executive producer Dave Filoni, isn't final, so keep your eyes open for the actual cover in the coming months.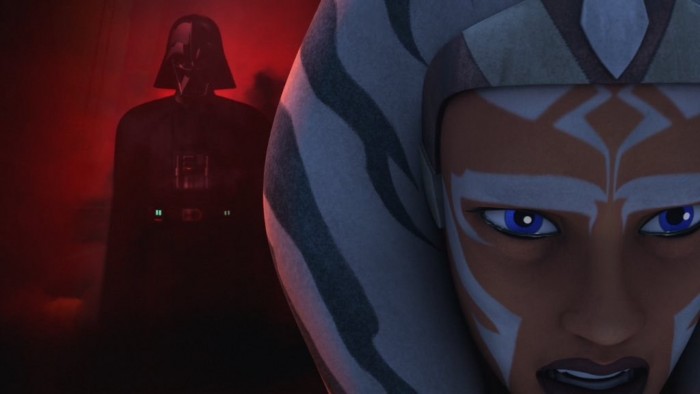 Star Wars Rebels season two spoilers to follow.
Speaking of Ahsoka and Dave Filoni, the Star Wars Rebels mastermind was asked about the fate of this beloved character following her duel with Darth Vader in the season two finale. His answer is pretty vague:
I've already been devising certain specifics around the future of that character, where she is, what's happening, if she dies, how would she survive if she did? All of those questions. I think they eventually need to be answered—but I wouldn't look to that, frankly, anytime soon.
As for the other side of that duel, Filoni says that the showdown between the former master and padawan didn't change the Sith lord in the slightest:
I personally have never felt that anything changes Vader until Luke. The Vader that we encounter in Rebels was always meant to be the one devoid of emotions, except for anger, hate and suffering. That he was so trapped inside himself because of the terrible things that happened. Anakin never thinks of himself as betraying his friends. He sees it as his friends betrayed him and the Republic. He has to live on that side of the fence because the truth is just too damming. So he wants to destroy Ahsoka because she represents his past. She represents knowledge of who he was and he wants to wipe that out. His son represents a potential future because his son wouldn't know who he was. So he could build a new galaxy together with his son. His apprentice is his past and he needs to destroy her.
For many more questions and answers about the finale, hit the link above.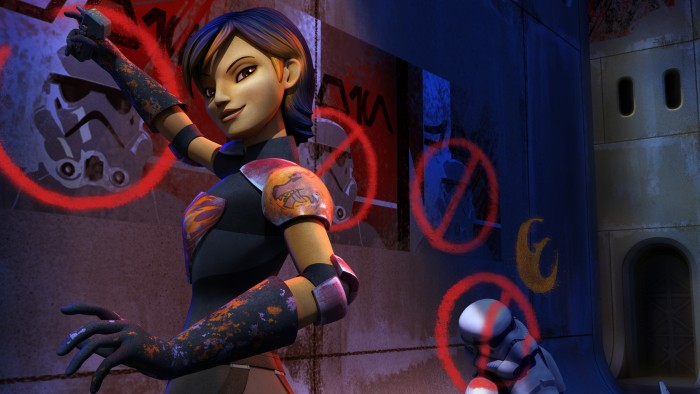 With most fans very satisfied with the season two finale of Star Wars Rebels, all eyes have turned to season three. io9 caught up with Filoni, who said that Mandalorian demolitions expert Sabine Wren will have a much larger role in the upcoming season:
We are going to delve a bit more into things with the Mandalorians and Sabine's story. Sabine's story will grow greatly in importance in the third season and she kind of comes up to stand next to Ezra as far as being an important player on the show. And isn't as much a supporting character which I think is a great transition for her as a character.
If the past is any indication, this show will only give you further reasons to love Sabine just so it can rip your heart out on a later date.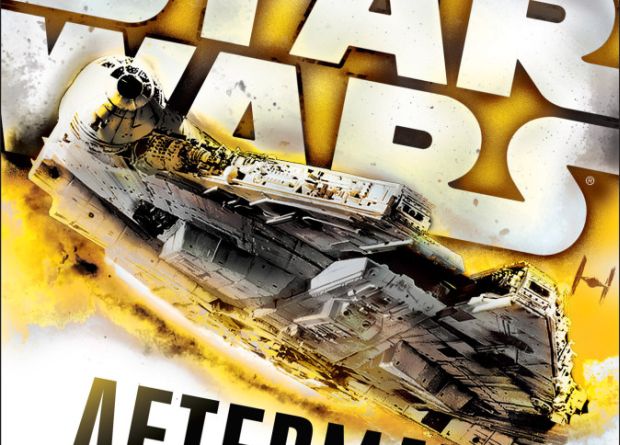 With Star Wars canon reset, 2015's Star Wars: Aftermath offered our first look at what happened after the events of Return of the Jedi in the new timeline. While the bulk of Chuck Wendig's novel followed a new batch of characters on an adventure that brought them into direct conflict with remnants of the Imperial leadership, the book offered glimpses at what was going on in the rest of the galaxy...including a very intriguing development for Han Solo and Chewbacca. Entertainment Weekly has debuted an excerpt from the sequel novel, Star Wars: Aftermath – Life Debt, which will continue the story that began in the first book while also checking in with Han and Chewie's new adventure. Here's a taste:
The galaxy is changing, and with peace now a possibility, some dare to imagine new beginnings and new destinies. For Han Solo, that means settling his last outstanding debt, by helping Chewbacca liberate the Wookiee's home world of Kashyyyk.
Meanwhile, Norra Wexley and her band of rebels pursue Admiral Rae Sloane and the remaining Imperial leadership across the galaxy. Sloane, increasingly wary of the mysterious fleet admiral, desperately searches for a means to save the crumbling Empire from oblivion. Even as Imperial forces fight to regain lost ground, Princess Leia and the New Republic seek to broker a lasting peace.
But the rebel's hunt for Admiral Sloane is cut short after the disappearance of Han Solo and Chewbacca. Desperate to save them, Leia conscripts Norra, Sinjir, Jas, and the rest of their team to find the missing smugglers and help them in their fight for freedom.
You can read the full excerpt from the book by following this link. Star Wars: Aftermath – Life Debt will hit shelves on July 19, 2016.
The Verge has published a wonderful article that takes a deep dive into the world of custom-made lightsabers, exploring the men and women who recreate these iconic science fiction weapons and the dedicated fans who collect them. The whole thing is worth reading, but the video above is an excellent companion piece.
Walt Disney World is never lacking in things to do. If you're a fitness enthusiast and a Star Wars nut, you should turn your attention to the first Star Wars Half Marathon, which begins tomorrow at the Florida theme park. Here are the details:
It is a weekend of galactic fun and fantastic runs during the Inaugural Star Wars Half Marathon – The Dark Side – at the Walt Disney World® Resort. You'll be running on Darth Vader's turf with the Emperor's white uniformed stormtroopers cheering you on your way. Darth Vader, the Galactic Empire Sith Lord, has a weekend of powerful surprises in store including spectacular runs, special events, entertainment, and much, much more!
Feel the power of the force with runs for Star Wars fans of every age including the Star Wars Half Marathon, Star Wars10K, Star Wars 5K, and the runDisney Kids Races. Challenge yourself to the ultimate test with the Star Wars Dark Side Challenge combining the Star Wars 10K and Half Marathon. It's all part of the first-ever Star Wars Half Marathon – The Dark Side, April 14-17, 2016. Choose your alliance! Run for the light side or run for the dark side – and May the Force be with you!
Disney has been hosting marathons and half marathons in its parks for some time now, but this is the first time they've specifically designed one for Star Wars fans. Since this event is themed to the Dark Side, you just know another marathon themed around the good guys is in the works.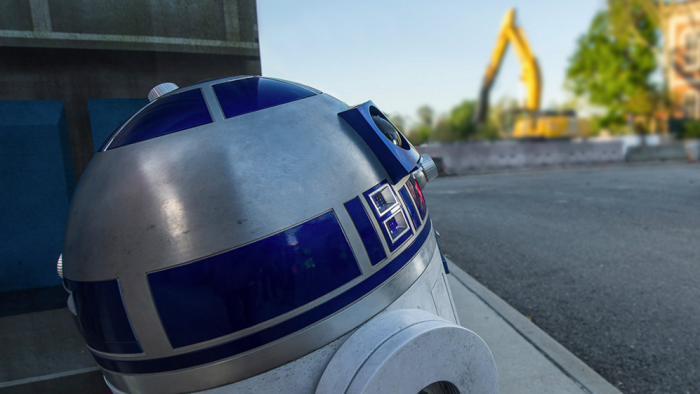 Speaking of Star Wars and Disney theme parks, the official Disney park blog shared the image above, which shows R2-D2 spying on the Star Wars land construction site at Disney's Hollywood Studios in Orlando, Florida. This image is the sequel-of-sorts to a prior photo showing BB-8 spying on the construction of the land's Disneyland counterpart on the west coast.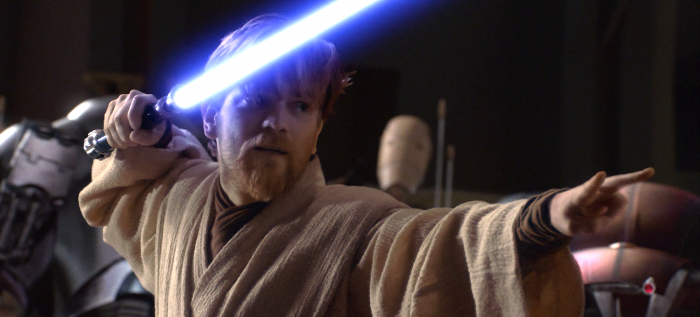 There have been rumblings of an Obi-Wan Kenobi spin-off movie focusing on the character in the time between Revenge of the Sith and the original 1977 Star Wars for some time now, but there has yet to be any concrete news. Ewan McGregor is down for it and the fans would like to see it, but Lucasfilm and Kathleen Kennedy have been playing their cards close to the vest. If they are seriously considering it, they aren't talking. However, take note of this excerpt from an interview in Total Film, where McGregor adds an interesting new piece to the puzzle:
There's obviously a story there. There's 20 years where he's in the desert after he's delivered Luke and Leia. I've always been keen to do that one. A friend of mine who I've worked with as a director, went in to pitch a story idea to them. Nothing's come of it yet, but we'll see.
Although Marvel's Star Wars comics having been exploring this story recently, there's nothing stopping them from taking this slice of the saga to the big screen. After all, everyone seems interested, including a director who decided to pitch the project...and it would be nice to McGregor's excellent take on Obi-Wan to be seen in a good Star Wars movie for once.
Yep, Star Wars: Force For Change is back and this video with Kathleen Kennedy and Mark Hamill is a hoot. Come for Hamill being a giant ham, but stay for the chance to donate money to an excellent cause and possibly win some very cool Star Wars swag.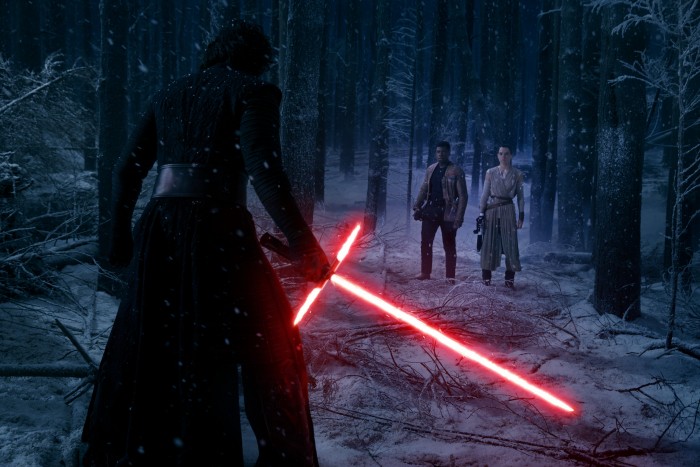 There is a certain corner of every fandom that is concerned entirely with whether or not certain characters will hook up or not. And that's okay. This is judgment free-zone. You are entirely allowed to concern yourself with the sex lives of fictional characters. Naturally, The Force Awakens has inspired all kinds of "shipping" movements, with fans hoping to see any number of characters getting it on. The most popular of the bunch is undoubtedly the relationship between Finn and Poe Dameron, which some fans hope will blossom into a full-blown romance. However, there is also "Reylo," the pet name for the pairing of Rey and Kylo Ren. When asked about his opinion on Reylo, artist surfacage responded with this comic, which posits a potential direction for that particular relationship. To his credit, I can actually see the future films embracing this particular piece of fan fiction.