'Captain America: Civil War' Clip: Ant-Man Totally Geeks Out Over Meeting Captain America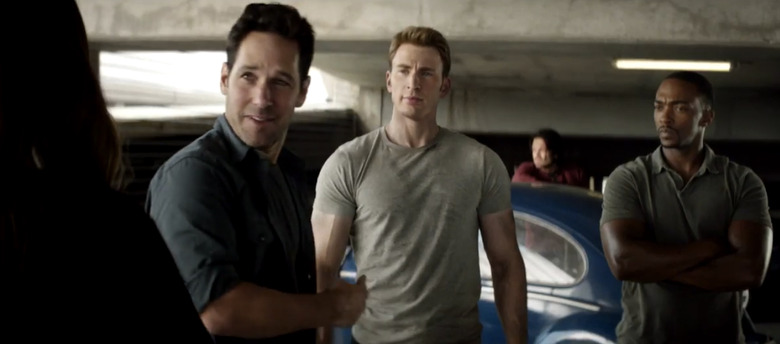 In just a couple days, fans in 25 major cities around the United States will be seeing Captain America: Civil War, so we'll be getting more than the initial positive reaction from critics and press that came last weekend. But if you're not among the lucky fans heading to one of those screenings, you've got a few weeks to wait, and Jimmy Kimmel Live just might have the goods to hold you over this week.
Marvel is invading the late night talk show all week, and they started by having Team Captain America stop by the show last night. Along with all the fun that was had with Chris Evans, Sebastian Stan, Anthony Mackie and Paul Rudd, a new Captain America Civil War clip debuted where Ant-Man (Rudd) meets Captain America (Evans) and is a little bit starstruck. It's one of the clips we saw at D23 last year.
Check out the clip and more from the Team Captain America episode of Jimmy Kimmel Live below.
Here's the Captain America Civil War clip from Jimmy Kimmel's YouTube channel:
Don't be fooled by the label and preview image, because the video starts with the quick clip from Captain America: Civil War before getting into a bit of personal trivia shenanigans with Team Cap. This is a great cast, and while there's obviously a lot of hard work that goes into these movies, you couldn't ask for a better group of people to be stuck on a set with for weeks at a time.
There will be plenty more coming from Jimmy Kimmel Live this week, including the first Doctor Strange trailer tonight, and an appearance by Team Iron Man later this week. We'll be offering up all the latest Marvel goods from the show, so stay tuned.
Otherwise, if you're looking for a bit more fun, check out this presidential campaign spoof featuring Donald Trump as Iron Man, Bernie Sanders as Captain America, Hillary Clinton as Black Widow and Ben Carson as Spider-Man:
Check out more clips featuring Team Cap right here.
Marvel's "Captain America: Civil War" finds Steve Rogers leading the newly formed team of Avengers in their continued efforts to safeguard humanity. But after another incident involving the Avengers results in collateral damage, political pressure mounts to install a system of accountability, headed by a governing body to oversee and direct the team. The new status quo fractures the Avengers, resulting in twocamps—one led by Steve Rogers and his desire for the Avengers to remain free to defend humanity without government interference, and the other following Tony Stark's surprising decision to support government oversight and accountability.
Captain America: Civil War opens on May 6.