'Iron Fist' Adds 'Lord Of The Rings' Alum David Wenham As Harold Meachum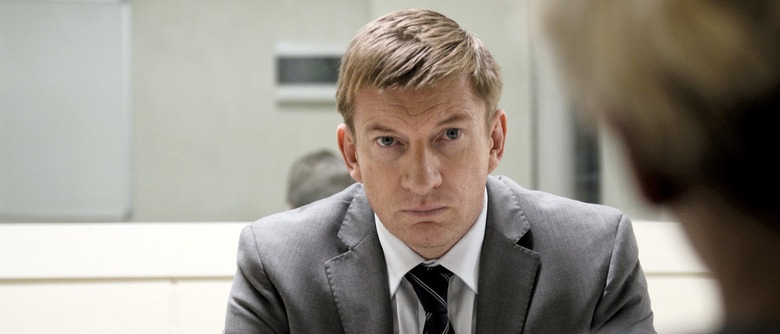 Daredevil star Charlie Cox recently let slip that The Defenders, which promises to unite all of Netflix's Marvel heroes in one Avengers-style team, would begin shooting late this year. But before we get there, we'll first need to check out Iron Fist, the fourth and final solo series to come out of that pact. Scott Buck was named showrunner back in December and Finn Jones was cast as the lead back in March, and now the supporting cast is starting to fill up as David Wenham comes aboard to play Harold Meachum. 
The Iron Fist Twitter feed celebrated the Iron Fist David Wenham news with a bit of teaser-y imagery.
Who is truly loyal? #IronFist https://t.co/0mA00aVc4n pic.twitter.com/WSpBY1XMPB

— Iron Fist (@MarvelIronFist) April 11, 2016
Iron Fist follows rich kid Daniel Rand (Jones) as he resurfaces in New York after having gone missing for several years. Using his sweet martial arts skills and the mystical power of the Iron Fist, he wages a battle against the criminal forces corrupting the city. Jessica Henwick was cast earlier this month as Colleen Wing, an ally of Danny's. The official Marvel press release keeps Harold's role in the series mysterious, describing him as follows:
A ruthless corporate leader, Harold Meachum was partners with Danny Rand's parents at the time of their deaths. What role he plays in Danny's past and future will be revealed over the course of the series.
If you want to try and guess where this is headed, you can probably look to Harold's comic book counterpart for clues – though it's worth keeping in mind that we don't know how much or in what ways Netflix's Iron Fist might stray from the source material. Earlier teaser art indicated that Harold's daughter Joy would be part of the Netflix series as well, but that character has not yet been cast.
Said showrunner Scott Buck about Wenham's casting:
I'm very excited to have David as our Harold Meachum. David is capable of displaying raw, visceral strength as well as extremely keen intelligence. This will add up to a character of complex depth who will keep us off balance all season.
Added Jeph Loeb, executive vice president of Marvel Television:
David brings both a vulnerability and a danger to his many diverse roles. This key quality creates a gravitas our series requires as Danny unravels the secrets behind Rand Enterprises.
Wenham is an Australian actor best known in the U.S. as Faramir in The Lord of the Rings: The Two Towers and The Return of the King, and Dilios in 300 and 300: Rise of an Empire. He also has a role coming up in Pirates of the Caribbean: Dead Men Tell No Tales. On the small-screen side, he was superb in Jane Campion's Top of the Lake as Al Parker, a well-liked and well-respected police sergeant with some surprising secrets. He should be a perfect fit for Harold, who sounds like a slippery sort of character.
Iron Fist hasn't yet announced a premiere date, but we're probably looking at very late 2016 or early 2017 for this one.