'Batman V Superman' Three-Hour, R-Rated Cut May Head To Theaters After All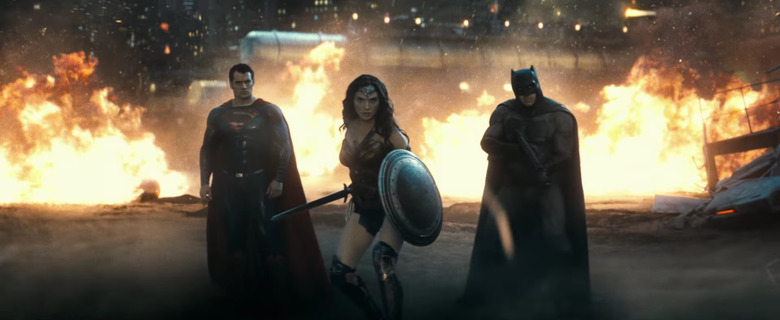 Even before Batman v Superman: Dawn of Justice hit theaters, we knew that there was an R-rated version of the comic book flick coming to home video. Dubbed the Ultimate Edition, the new cut was going to add 30 minutes of footage back into the movie and spice it up with a little more violence that would push it to being an R-rated feature. The only way fans were going to see this was when it hit home video, but now Warner Bros. is reportedly considering releasing the Batman v Superman R-rated cut in theaters. Find out more below.
According to the Heroic Insider podcast (via ScreenCrush), the disappointing box office run for Batman v Superman has Warner Bros. Pictures trying to figure out how to get a little more mileage out of the movie as the grosses keep falling each weekend.
Batman v Superman: Dawn of Justice made a lot of money in its opening weekend, racking up over $166 million domestically. However, from Friday-to-Friday, the film dropped 81% in its second weekend, and 68% total for the entire weekend. And in its third round this past weekend, Batman v Superman dropped another 60% from the second Friday to third Friday, where it only pulled down $6.045 million.
To put these numbers in perspective, Forbes reports Batman had an opening weekend of just $42 million, and when its third weekend rolled around, it landed $6.065 million. So as of now, Batman v Superman is dropping at the box office faster than Batman, and that's after having an opening weekend nearly four times that of the 1989 film from Tim Burton. Even adjusted for inflation, Batman v Superman isn't doing so hot when compared to Batman.
In the end, Batman v Superman will make some money, but it's not going to be as big of a hit as the studio was hoping. In fact, the movie probably isn't even going to cross $1 billion worldwide, and it will just barely cross the $900 million mark if the numbers keep up their current trend.
So the solution that Warner Bros. sees is to bring the R-rated cut of Batman v Superman to the big screen so that curious audiences will flock back to theaters to see the extra 30 minutes of footage on the big screen. After all, since The Boss just beat it at the box office, the studio clearly isn't getting as much repeat viewers as something like Star Wars: The Force Awakens did.
This is just a rumor for now, but if Warner Bros. announces any plans to release the Batman v Superman Ultimate Edition in theaters, we'll have all the details for you.