The 'Avengers: Infinity War' Movies Will Be "Very Different From One Another"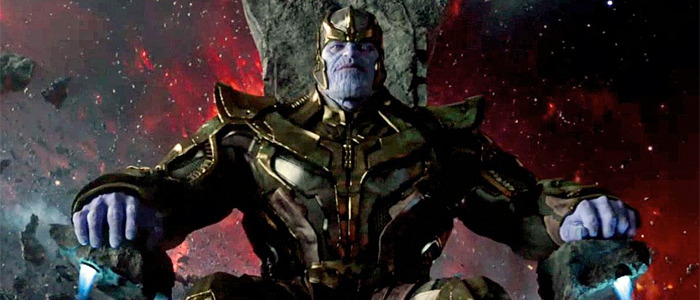 Captain America: Civil War isn't even in theaters yet, but we're already asking directors Joe and Anthony Russo and writers Christopher Markus and Stephen McFeely about their next collaboration for Marvel Studios: the two-part Avengers: Infinity War. But you can really blame anyone for being curious? The grand finale of Marvel's "Phase 3" will tie up every loose end in the Marvel Cinematic Universe so far and bring together a reported sixty-plus characters to battle the evil Thanos, who has been looming over these movies for years.
Now that people have seen Civil War (and have been raving about it), the questions everyone has about Infinity War can also be addressed. And according to the chief creatives behind this film, this will be something far different than just a two-part story.
This batch of news comes to us from io9 (and former /Film-er Germain Lussier), who spoke with the Russos, Markus, and Feely about what to expect from the future of the MCU. The most interesting soundbite of them all is Anthony Russo saying that both parts of Infinity War will feel like very different movies:
The movies are very very different from one another. It's not a part one and part two scenario, necessarily. They're just two different expressions. I think it creates a misconception that we're shooting them at the same time.
Russo went on to add that Infinity War will continue the through line they established in Captain America: The Winter Soldier and Civil War. Their corner of the MCU will ultimately tell its own story within the story:
For us there's a through line from Winter Soldier, through Civil War, right to Infinity War. In our mind, the storytelling arc moves that way.
So what's the deal with both parts feeling "very very different from one another"? If I had to guess (and I'm certainly not the only one who has made this prediction), I would say that Infinity War Part I follows an Avengers B-team consisting of Doctor Strange, Black Panther, Ant-Man and other relative newbies as they barely survive the Thanos onslaught. Then Part II can bring the heavy-hitters like Iron Man, Thor and Captain America back for the final fight. Like I said, that's just spit-balling. But it would certainly lead to two very different films.
Elsewhere in the original post, Markus talked about working on the Infinity War script while on set for Civil War and it sounds like him and Feely were just two kids in a candy store:
We sent in literally 60 pages of unrelated ideas. Just like 'Here's some stuff that could happen in this insane movie.' Then we came back from Atlanta and everyone had a copy of that [document] and they'd circle this, 'This is cool, this is insane, this is cool, we're not allowed to do that,' and from there we've pieced it together very slowly. We're in the middle of it now.
Avengers: Infinity War Part I will open on May 4, 2018 and Avengers: Infinity War Part II will open on May 3, 2019. For more details and many more quotes, make sure you check out the full article linked above.