'Thor: Ragnarok' Adds Tessa Thompson, Loses Natalie Portman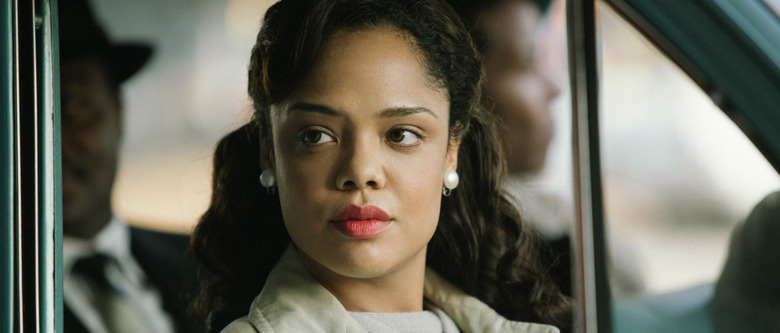 Captain America: Civil War might have most of the Avengers, and a host of new MCU heavyweights to boot, but Thor: Ragnarok has quietly been building an amazing cast in its own right. In addition to Chris Hemsworth as Thor and Mark Ruffalo as Hulk — the only two Avengers not appearing in Civil War — the film is also expected to feature the returns of Tom Hiddleston's Loki and Jaimie Alexander's Sif, and a new character played by Cate Blanchett to boot.
Now it's added yet another exciting talent to the cast: Tessa Thompson, who broke out last year with Creed. Unfortunately, that good news comes with a side of bad news. We've also learned that Natalie Portman is not returning as Dr. Jane Foster.
Details on Thompson's Thor: Ragnarok character remain under tight wraps, with THR saying only that she has a "key role" in the superhero sequel. The trade does speculate that she could be the new female lead, since Portman won't be back. Coincidentally, Thompson is about to begin shooting Alex Garland's Annihilation with Portman, along with Jennifer Jason Leigh, Gina Rodriguez, and Oscar Isaac, in the coming weeks.
Taika Waititi is set to helm Thor: Ragnarok from a script most recently rewritten by Stephany Folsom. Ruffalo has described the film in vague terms as "a buddy picture with Thor and Bruce Banner," but one in which the buddies engage in a giant CG battle. "I think they'll probably fight," he said. "There's no doubt, everyone wants us to fight at one point." More specific plot details remain murky, but the title suggests we're in for a giant war that could spell the end of Asgard as we know it.
It's a bit surprising to hear Portman won't return as Jane Foster, who's been positioned as the female lead of the franchise and Thor's main love interest. But the word is that Ragnarok won't be spending much time down on Midgard (a.k.a. Earth), which may explain why Stellan Skarsgard's Dr. Erik Selvig won't be back either. (And if they're both out, we'd guess that Kat Dennings' Darcy is as well.) There have been rumors that Thor: Ragnarok would introduce another female superhero to the MCU, so maybe that's the part Thompson is filling.
Thompson has been bouncing around Hollywood for more than a decade — one of her big early roles was as Jackie Cook in season two of Veronica Mars — but she's really blown up over the past couple of years with roles in Dear White People, Selma, and Creed. She's now shooting HBO's Westworld, and recently received great notices at SXSW for her supporting role in John Michael McDonagh's War on Everyone.
Thor: Ragnarok opens November 3, 2017.