'Teenage Mutant Ninja Turtles: Out Of The Shadows' Trailer And Poster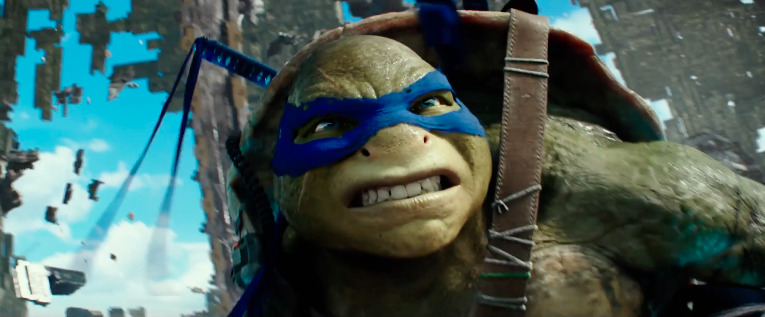 Much to many fans' disappointment, 2014's Teenage Mutant Ninja Turtles wasn't really about the Turtles. Megan Fox's April O'Neil was the true protagonist of the movie, while the Turtles themselves languished in the shadows (all the better to save money on all that expensive CG rendering). But the cast and crew have promised that the sequel, this summer's Teenage Mutant Ninja Turtles: Out of the Shadows, will finally bring the heroes in a half shell into the spotlight. And the latest trailer certainly seems to make good on that promise: it's all about the Turtles, diving headfirst into action and making dumb jokes with each other and angsting about their mutation.
Plus, if your favorite Turtles characters were always the villains and supporting players, there are plenty of them, too. This movie has Shredder and Baxter Stockman and Bebop and Rocksteady and Krang, and even a bit of Casey Jones for good measure. And yes, April and Vernon Fenwick are back too. Watch the new Teenage Mutant Ninja Turtles: Out of the Shadows trailer, featuring plenty of new footage, below. 
Teenage Mutant Ninja Turtles: Out of the Shadows opens June 3. Dave Green (Earth to Echo) directed. Pete Ploszek, Alan Ritchson, Noel Fisher, and Jeremy Howard play Leonardo, Raphael, Michelangelo, and Donatello respectively (Johnny Knoxville provides the voice of Leo), Danny Woodburn is Splinter (with Tony Shalhoub as the voice), Megan Fox is April O'Neil, Stephen Amell is Casey Jones, Will Arnett is Vernon Fenwick, and Laura Linney is Rebecca Vincent. Also starring are William Fichtner as Eric Sacks, Brian Tee as Shredder, Brittany Ishibashi as Karai, Tyler Perry as Baxter Stockman, Gary Anthony Williams as Bebop, Stephen "Sheamus" Farrelly as Rocksteady, and Fred Armisen as Krang.
Michelangelo, Donatello, Leonardo, and Raphael return to theaters this summer to battle bigger, badder villains, alongside April O'Neil (Megan Fox), Vern Fenwick (Will Arnett), and a newcomer: the hockey-masked vigilante Casey Jones (Stephen Amell). After supervillain Shredder escapes custody, he joins forces with mad scientist Baxter Stockman (Tyler Perry) and two dimwitted henchmen, Bebop (Gary Anthony Williams) and Rocksteady (WWE Superstar Stephen "Sheamus" Farrelly), to unleash a diabolical plan to take over the world. As the Turtles prepare to take on Shredder and his new crew, they find themselves facing an even greater evil with similar intentions: the notorious Krang.