VOTD: Dwayne Johnson & Kevin Hart Rap About The Movies Of 2015 & Lonely Island Honors Will Smith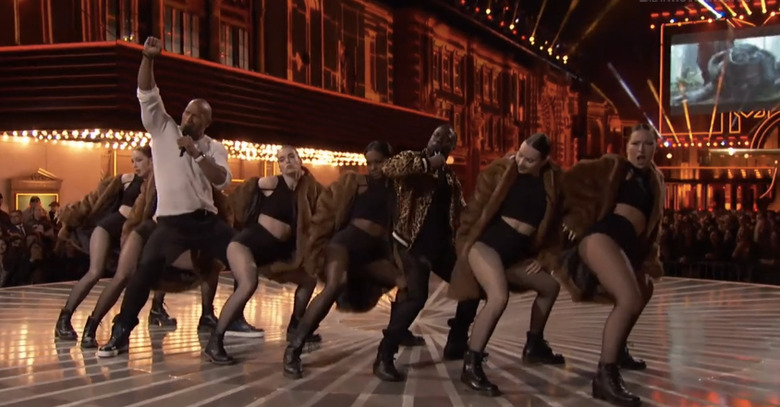 Last night brought the MTV Movie Awards to the televisions of teenagers and people with nothing better to do on a Sunday night. Other than the reveal of a new clip from Captain America: Civil War, an outstanding new trailer for Suicide Squad, and a second teaser trailer for Fantastic Beasts and Where to Find Them, memorable moments from the show were few and far between. But the few that were memorable at least brought some laughs. Oh, and some rap too.
Dwayne Johnson and Kevin Hart (who hosted the show) delivered a rap to pay tribute to the movies of 2015, and they even threw some shade at the Oscars by pointing out they were honoring the movies that viewers had actually seen. In addition, Will Smith was given the MTV equivalent of lifetime achievement known as the Generation Award. But before he was given the honor, The Lonely Island honored him as only they could. Watch both of the MTV Movie Awards rap videos below.
First up, here's Dwayne Johnson and Kevin Hart rapping it up (via MTV):
I'm not sure how long the joke about Leonardo DiCaprio getting sexually assaulted by a bear in The Revenant is going to last, but I think it's starting to run its course. Having said that, hearing it with rhythm and with people dressed up as bears does make it feel a little less tiresome.
Secondly, here's the tribute to Will Smith's career featuring some of his iconic songs:
The medley of Will Smith's rap songs included the theme from The Fresh Prince of Bel-Air as well as Men In Black, not to mentions his non-movie related songs "Parents Just Don't Understand", "Summertime" and "Getting Jiggy With It". It's a little disappointing they couldn't fit the Wild Wild West theme song in there, since it's the only thing of value to come from that movie.