'Wolverine 3': 'Narcos' Star Boyd Holbrook In Talks For Villain Role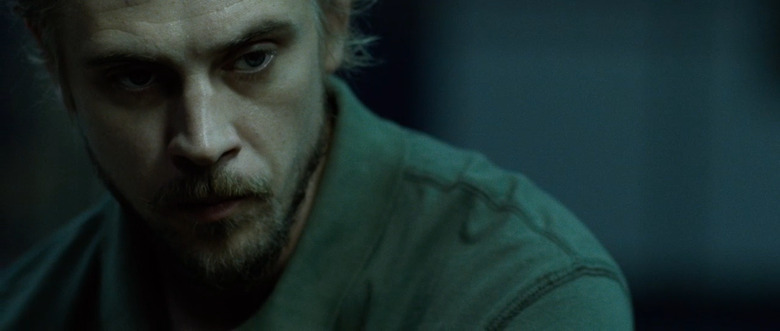 Hugh Jackman's time as everyone's favorite cranky Canadian mutant will come to an end next year with Wolverine 3, and after nearly two decades he and the character deserve to go out with a bang. Which means that they're gonna need a worthy villain to go up against. And as of right now, Narcos actor Boyd Holbrook has entered talks to be the poor evil fool who'll probably get shish kebab-ed on those adamantium claws. More on the new Wolverine 3 villain below. Deadline broke the news of the Wolverine 3 villain. Holbrook will be the lead villain in the film, described as "a relentless, calculating and intense head of Security for a global enterprise." TheWrap adds that he's an original character, as opposed to someone from the comics.
Also starring in the film will be Patrick Stewart, who reprises his role from the earlier X-Men films as Charles Xavier a.k.a. Professor X. Liev Schreiber, who played Sabretooth in X-Men Origins: Wolverine has additionally hinted at a possible return, but has not officially been confirmed to appear. James Mangold, who directed 2013's The Wolverine, returns to direct the character's third and final solo film. David James Kelly wrote the script.
Holbrook stars in Netflix's Narcos as DEA agent Steve Murphy, and has also had roles in History's Hatfields & McCoys and Showtime's The Big C. On the movie side, he's had roles in Gone Girl, The Skeleton Twins, and Jane Got a Gun, and will soon be seen in The Free World and Terrence Malick's Weightless (provided he didn't get cut, as tends to happen to actors in Malick movies).
Wolverine 3, which will get a title change before hitting theaters, will be based on Mark Millar and Steve McNiven's "Old Man Logan" arc from the comics. The original story unfolds in a dystopian future ruled by supervillains. The former Wolverine has long since retired to a quiet life his family, but gets sucked back into superhero drama when he agrees to help an old friend deliver a package.
As published, the story features a number of Marvel characters that 20th Century Fox (who puts out the X-Men films, including the Wolverine spinoffs) does not have the rights to. But as Millar has pointed out, it's possible to do a version of the story with different characters that Fox can actually use. Indeed, swapping out the Avengers characters and bringing in X-Men ones could be a nice way to close the book on Wolverine, his place in the X-Men universe, and his relationships with the other characters that populate it.
It's a pretty dark storyline, and as such Wolverine 3 is expected to be rated R. Fox has insisted the decision wasn't a reaction to Deadpool's box office success, but we're guessing that didn't hurt. Wolverine 3 shoots in May for release on March 3, 2017.