Live, Sequelize, Repeat: 'Edge Of Tomorrow 2' Taps 'Race' Writers [Updated]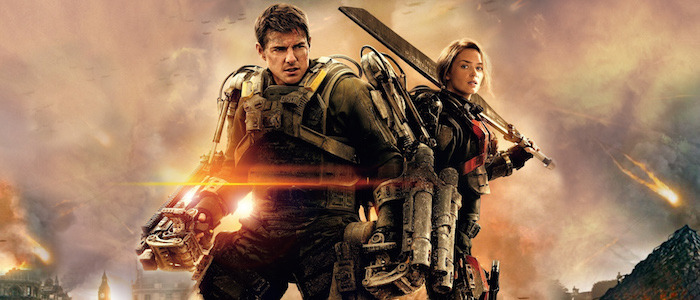 UPDATE: Christopher McQuarrie took to Twitter to correct Deadline's original post. He will not be directing Edge of Tomorrow 2. Doug Liman will return to helm the sequel. The original article follows.
Edge of Tomorrow didn't make my top 10 of 2014, but I've certainly watched it more times than any other film that did make the list. Doug Liman's science fiction war movie works on just about every level: it's stylish and smart and hilarious and filled with genuinely unique action that's powered by a Groundhog Day-esque time travel plot that allows its lead character to repeatedly die on the battlefield and instantly return to action. Tom Cruise and Emily Blunt are a duo for the ages. It's wonderful.
It also has a completely definitive ending that wraps up every loose end, making it the rare modern studio tentpole film to not showcase an interest in building a franchise. But rumblings of a potential sequel began in earnest last year and now there's been a major step forward – writers have been hired to pen Edge of Tomorrow 2 and Mission: Impossible – Rogue Nation and Jack Reacher director Christopher McQuarrie is now attached to direct.
Deadline reports that Joe Shrapnel and Anna Waterhouse have been tapped to write the sequel. Although the duo wrote the Jesse Owens biopic Race, they probably nabbed this gig after doing a rewrite of The Grey Man for McQuarrie, who wrote the final drafts of Edge of Tomorrow and has become Tom Cruise's go-to writer/director these days.
Since the first movie ends so definitively, McQuarrie, Shrapnel, and Waterhouse need to find a new way for Cruise and Blunt to have time-hopping, death-defying adventures. The possibilities are limitless, which must be equally terrifying and exciting for everyone involved. All we know right now is that Cruise himself pitched an idea for a follow-up last year, but we haven't heard anything since then.
Edge of Tomorrow underperformed at the domestic box office, grossing $100 million against a reported budget of $178 million. However, the film was a big hit in international markets, critics loved it, and the audiences who actually bothered to see it (the marketing campaign was infamously poor and confused) fell in love with the movie. McQuarrie is well-are of this, saying in an interview:
What I've learned, having made Mission, is what I would write into the movie to make that movie an easier sell. Edge of Tomorrow was incredibly difficult to market. From the look of the film... to the title of the film, whatever the title was, whether it was All You Need is Kill or Edge of Tomorrow — and God help us figuring out what the title of the sequel is. The Edge of the Day After Tomorrow? I don't know. But the humor in the film took a good 35 minutes to really dawn on you – the movie really sneaks up on you and takes this sudden left turn. The movie didn't have the moments that a trailer needs to tell you, "This is the experience you're going to have." Jack Reacher was a really tough movie to market and we were constantly struggling... Edge of Tomorrow didn't have a presence on social media until the weekend it came out, then people go, "Oh my God, it's really good" ... it was too little, too late.
Cruise and McQuarrie have showcased exceptional taste in the past and their working relationship has proven fruitful for the both of them (they will soon re-team for Mission: Impossible 6 as well). If they think Edge of Tomorrow 2 is a good idea, I am on board one hundred percent. Well, I'm on board as long as they give Emily Blunt's Rita Vrataski plenty to do. Cruise is great in the first film, but she's extraordinary.