'Mothers And Daughters' Trailer Promises A Big Love Letter To Moms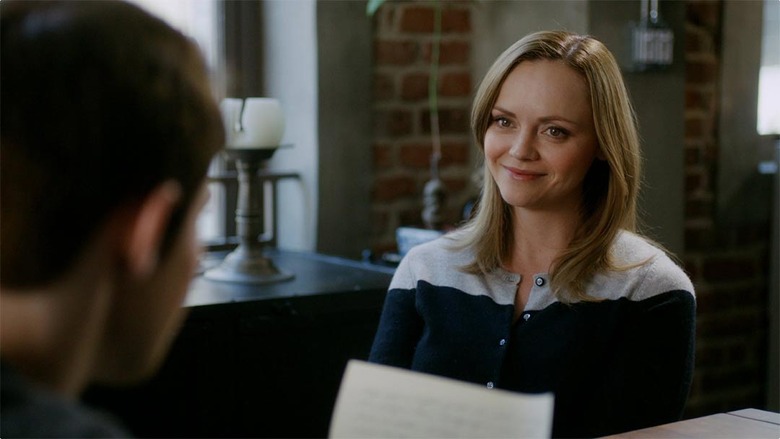 Susan Sarandon is starring in not one but two movies about mothers and daughters this spring. Since The Meddler is about more than just being a mom — and because we don't see enough movies about being a mom – getting two of them the same time of year, both starring Sarandon, isn't such a bad thing. The trailer for the other one, Mothers and Daughters, has just been released, and you can watch it below.
Directed by Paul Duddridge and Nigel Levy, the film stars Sarandon, Selma Blair, Sharon Stone, Courtney Cox, Christina Ricci, Mira Sorvino, and more. The ensemble film doesn't look completely like, say, Garry Marshall's Valentine's Day – or even, funnily enough, the director's upcoming film, Mother's Day, which the trailer, describes as "the mother of all comedies." But it does have a similar vibe about it.
Here's the Mothers and Daughters trailer:
Mothers and Daughters' heart is certainly in the right place. The film is clearly a big love letter to moms, which is admirable and sweet, but whether the story itself is admirable and sweet comes down to whether the mother-daughter relationships are genuine enough to make all of those grand, potentially corny gestures and speeches feel real enough.
This kind of material could easily slip into becoming a phony leave-your-brain-at-the-door-and-just-feel-good movie, but hopefully that's not the case. That's certainly not the case with The Meddler, a mother-daughter relationship that's treated with total authenticity. I can't speak for the quality of Mothers and Daughters or Mother's Day, but the other Susan Sarandon film shows a woman whose life goes beyond motherhood, which is a part of why it's such a believable and charming mother-daughter story.
Here's the official synopsis for Mothers and Daughters:
MOTHERS AND DAUGHTERS features interwoven stories about what it means to be a mom, which are tied together via single gal Rigby Gray, a rock photographer who's riding a career high when an unlikely and unexpected pregnancy forces her to turn her lens inward. As Rigby slowly comes to terms with what it might mean to change her life forever, she discovers with fresh eyes her own relationship with her estranged mother. Through a series of photographs documenting motherhood in all its varieties, she considers what it means to be maternal at all. Director Paul Duddridge's film is a celebration of the unparalleled love between mothers and their children and the myriad ways they connect in today's modern world.
Mothers and Daughters opens in theaters and VOD on May 6th.