New 'Warcraft' Character Posters: The War Is Almost Here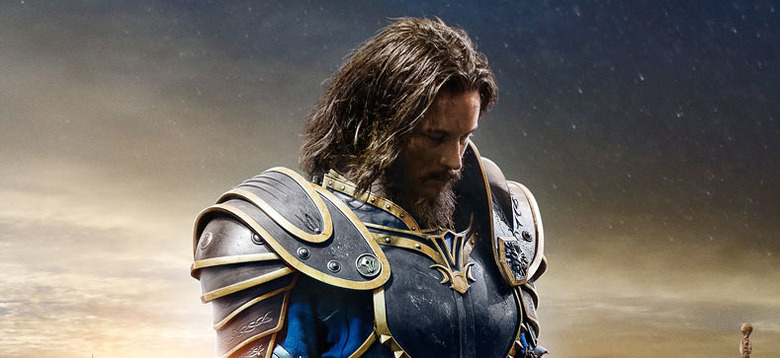 The more we see from Duncan Jones' Warcraft, the more compelling it looks. While fans of the video game were divided over the first trailer, which featured unfinished VFX, the last extended TV spot presented a more tactile glimpse at the world Jones and all involved have crafted. The orc, in that TV spot, was completely convincing, and so was the environment it was fighting in.
To get another close-up look at the film, check out the new Warcraft character posters below.
Unlike most of the dreadful video game adaptations we've seen, Jones had a lot more tools at his disposal, because Warcraft is not a cheap movie. Say what you will about how the orcs or environments look, but Legendary is betting big on the film. They didn't make the cash grab version of World of Warcraft. Legendary and Universal are treating this as an event film, which is kind of unprecedented for a video game adaptation.
Here are the new Warcraft character posters:
Will general audiences be swept up by all the nerdiness on display in the trailers and posters for Warcraft? That's been a curiosity ever since the project was first announced. The film probably already has the World of Warcraft fans in the bag, whether they think the film looks good or not, but now it's just a question of whether people that have never played a second of the game will be lining up on opening weekend. If the director of Moon and Source Code delivers the goods — which I've heard he has — then maybe Warcraft will connect with a mass audience this summer.
Warcraft stars Travis Fimmel as Anduin Lothar, Paula Patton as Garona, Toby Kebbell as Durotan, Dominic Cooper as Llane Wrynn, Ben Foster as the wizard Medivh, and Ruth Negga as Lady Tario.
Here's the official synopsis:
The peaceful realm of Azeroth stands on the brink of war as its civilization faces a fearsome race of invaders: Orc warriors fleeing their dying home to colonize another. As a portal opens to connect the two worlds, one army faces destruction and the other faces extinction. From opposing sides, two heroes are set on a collision course that will decide the fate of their family, their people and their home.
So begins a spectacular saga of power and sacrifice in which war has many faces, and everyone fights for something.
Directed by Duncan Jones (Moon, Source Code) and written by Charles Leavitt and Jones, the film starring Travis Fimmel, Paula Patton, Ben Foster, Dominic Cooper, Toby Kebbell, Ben Schnetzer, Rob Kazinsky and Daniel Wu is a Legendary Pictures, Blizzard Entertainment and Atlas Entertainment production.
Warcraft opens in theaters June 10th.