'Manhattan Night' Trailer: Adrien Brody Is Absolutely Terrified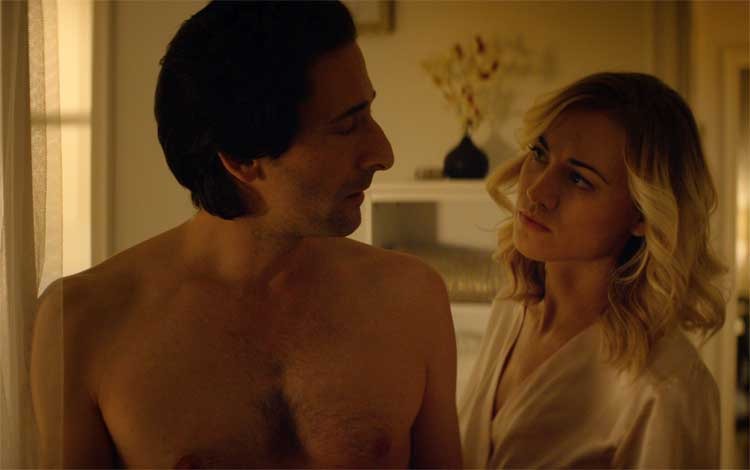 If you like trailers that probably reveal far too many plot points, then the trailer for Manhattan Night was cut just for you. The mystery — which might be hard to call a mystery after this trailer — involves a reporter that gets in over his head. Adrien Brody stars in the film, which looks like a bit like a throwback to the sexually-charged thrillers we rarely see these days.
Below, watch the Manhattan Night trailer.
Over the years, Brody has been appearing in all sorts of projects, from InAPPropiate Comedy to The Grand Budapest Hotel to Dragon Blade (the period piece that featured John Cusack and Jackie Chan). The actor either has eclectic taste or likes to keep busy, and there's nothing wrong with that. In addition to Brody, the film features Yvonne Strahovski (Dexter) and Jennifer Beals (The Book of Eli).
Here's the Manhattan Night trailer (source: IMDB):
"I'm going to be with you until I die. How do you feel about that?"
"Terrified."
The trailer likely spoiling far too much is almost worth it for that exchange. You have to credit writer-director Brian DeCubellis for that line, because if any scene from this trailer would make someone want to see this movie, it's that one. Perhaps that moment didn't originate from DeCubellis, though, as the film is based on Colin Harrison's "Manhattan Nocturne: A Novel." And maybe this trailer doesn't spoil as much as we think it does. While Yvonne Strahovski's character turning out to be completely off her rocker seems like a major plot point, the reveal could occur earlier in the movie than we expect.
Here's the official synopsis:
Based on Colin Harrison's acclaimed novel Manhattan Nocturne (a New York Times Notable Book of the Year), MANHATTAN NIGHT tells the story of Porter Wren (Adrien Brody), a New York City tabloid writer with an appetite for scandal. On the beat he sells murder, tragedy and anything that passes for the truth. At home he is a model family man, devoted to his loving wife (Jennifer Beals). But when a seductive stranger (Yvonne Strahovski) asks him to dig into the unsolved murder of her filmmaker husband Simon (Campbell Scott), he can't resist. In this modern version of a classic film noir, we follow Porter as he is drawn into a very nasty case of sexual obsession and blackmail — one that threatens his job, his marriage, and his life.
Manhattan Night opens in theaters and On Demand on May 20th.