'Westworld' Resumes Production, Adds 'Banshee' Star Lili Simmons To The Cast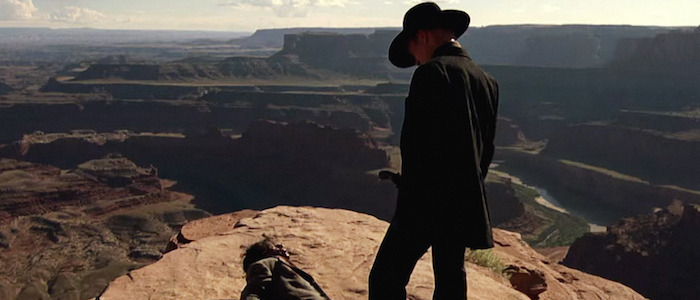 As a fan of lengthy articles about troubled film and television productions, I'm looking forward to the future exposé that goes into great detail about exactly what's going on behind the scenes of Westworld. HBO's ambitious science fiction series, based on the 1973 film of the same name, was a complex and arduous production before the press got wind of consent forms that required extras to agree to "genital-to-genital touching" and pose "on all fours while others who are fully nude ride on [their] back." And then the entire show shut down production three months ago so writer/producers Jonathan Nolan and Lisa Joy could finish the remaining four scripts in the first season. All of this for a show that was originally intended to premiere in 2015. Like I said, there's a great article waiting to happen here.
But in the meantime, we can now report that Westworld has resumed production and that Banshee star Lili Simmons has joined the cast.
This new update comes to us courtesy of Deadline and there's not much to it. Production has resumed. Cameras are rolling. Simmons is now a part of the cast, which already included Ed Harris, Anthony Hopkins, James Marsden, Thandie Newton, Evan Rachel Wood, Jeffrey Wright, Ben Barnes, and Clifton Collins Jr. Deadline reports that Simmons was cast just as production was halted and she is just now starting to film her scenes.
It's not entirely clear how or if the new Westworld will differentiate from Michael Crichton's original film, which was set in a theme park populated by lifelike robots who eventually run amuck and slaughter the guests. Deadline says that Simmons will play "Abigail, who works in the park and uses her good looks and charm to lure Westworld guests into the saloon." In other words, it certainly sounds like she's playing a robot prostitute in a high tech amusement park themed like the Old West where paying guests can have sex with robots. And kill robots. And do all kinds of things that will ultimately lead to them incurring the wrath of robots further down the road.
Simmons is a relative newcomer, but she's already racked up some pretty impressive credits. In addition to Banshee, she has appeared in Bone Tomahawk, True Detective, and the hugely under-seen and quite good Fat Kid Rules the World. A key role on a major HBO series feels like the natural next step.
Westworld doesn't have a premiere date yet, but all eyes are currently on 2017.