NYC: See 'The Final Girls' This Weekend And Help Keep The Midnight Movie Alive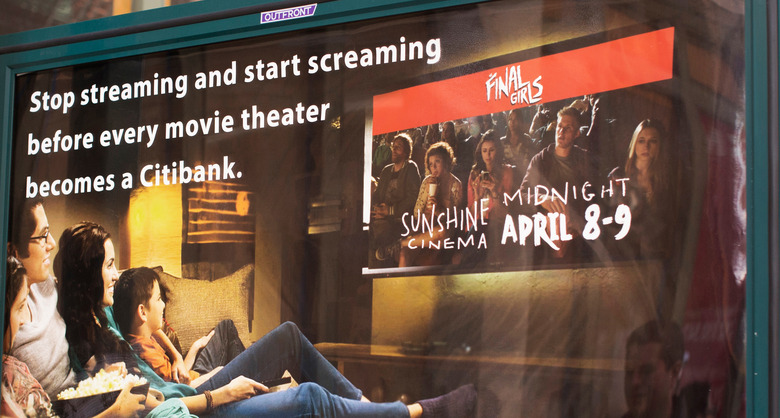 Even though services like The Screening Room are looking to bring theatrical movies into your home, there are plenty of movie fans who understand that the movie theater can still be the most magical place to see a theater. There's just something special about seeing a movie with the right crowd and having a whole community of strangers being entertained by the flickering images on the big screen.
Watching movies at home on Netflix may be fun, but we can't let the movie theater experience go by the wayside, especially when it can be the coolest way to discover a movie that you might have missed the first time around. That's exactly what's happening with Todd Strauss-Schulson's horror comedy The Final Girls.
The Final Girls came and went last year without much pomp and circumstance, despite a slew of great reviews and festival buzz from South by Southwest. But in recent months, it's starting to become a cult classic, and it's a modern flick that's keeping the magic of the midnight movie alive in really fun ways. And if you're in New York City, you can partake in this special occasion. Plus, check out some incredible guerrilla street art hidden around the city promoting the special midnight screening of The Final Girls below.
Even though The Final Girls wasn't a box office hit, director Todd Strauss-Schulson couldn't be happier that his film is finding new life in movie theaters, allowing people another opportunity to discover it. Here's what he had to say:
Cult status is in many ways so much more meaningful than a big box office weekend: it means people really love the movie, and they tell their friends, and it lives on for much longer. I feel so much gratitude for the fans who are adopting this movie, talking about it and passing it around — finding it in the same way I found El Mariachi when I was a kid and someone handed me a VHS promising it would blow my mind. In some circuitous and completely accidental way, we ended up making a movie that can hang with the movies that made us want to be a filmmakers in the beginning.
This it the kind of movie that deserves to be seen with an audience, and Sunshine Cinema in New York will let you do just that this weekend with midnight screenings on Friday, April 8th and Saturday, April 9th. Director Todd Strauss-Schulson will be in attendance for a Q&A along with one of the film's stars, Alia Shawkat (Arrested Development). Believe me when I say this one is worth heading to a late night screening for. You can get tickets to The Final Girls screening right here.
If you need evidence of this cult following for the movie, just check out this quick clip of a combination drag show and screening that happened in San Francisco, thanks to drag queen Peaches Christ:
And in keeping with the growing cult status of the movie, there's been a fun round-up of street art hitting New York City that you might just see if you're walking around the streets or riding the subway. As the director says, "Some call attention to the dying trend of going to see smaller movies in an actual theater, while others riff on our current pop culture obsessions. New York commuters — bankers with coffee breath, UCB students doing bits in Chelsea, Brooklynites still trying to finish A Little Life — should keep an eye out for more Final Girls visual gags leading up the Friday and Saturday." Check out some of the promos:
If you want to know more about The Final Girls, check out all the good buzz over here. Or just watch the trailer:
When Max (Taissa Farmiga) and her friends reluctantly attend an anniversary screening of Camp Bloodbath, the infamous '80s horror film that starred Max's late mother (Malin Akerman), they are mysteriously sucked into the silver screen. They soon realize they are trapped inside the cult classic movie and must team up with the fictional and ill-fated camp counselors, including Max's mom as the scream queen, to battle the film's machete-wielding killer. With the body count rising in scene after iconic scene, who will be the final girls left standing and live to escape this film? The Final Girls is a genre-blending horror comedy also starring Adam DeVine, Thomas Middleditch, Alia Shawkat with Alexander Ludwig and Nina Dobrev.