Another 'Bill & Ted 3' Update: The Film Could Start Shooting Early Next Year; Other Original Cast Members Will Return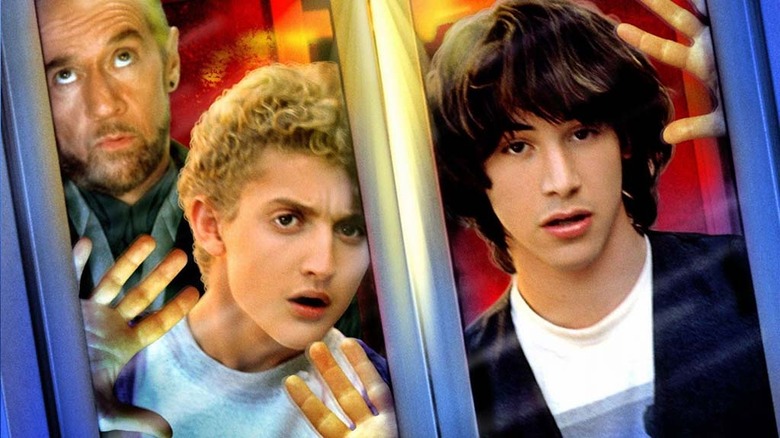 It was over six years ago when Keanu Reeves first got our hopes about a Bill & Ted 3. The sequel has taken its sweet time getting to the big screen, but every once in a while, Reeves and Alex Winter let fans know the film is still very much alive, despite whatever challenges the project has faced.
Below, Winter says he's hopeful the film will start shooting later this year, although a shoot in the first quarter of 2017 sounds more likely.
Why the wait for the film? Since most movies take years to develop, Bill & Ted 3 isn't exactly an oddity, but Reeves and all involved have just been waiting for the right script. Chris Matheson and Ed Solomon's first draft would've cost somewhere in the neighborhood of $150 million, which, Reeves admitted, would've been too high of a price tag for the film.
Reeves' co-star Winter, recently discussed the Frank Zappa documentary he's working on with Forbes, and towards the end of the interview, he was asked about the status of Bill & Ted 3. Here's what Winter had to say:
It's the 25th anniversary of Bill and Ted's Bogus Journey this year and it sounds like the threequel is still going ahead?
AW: It's looking good. This is Hollywood so I don't believe it's happening until it's coming out on VOD but we're all working on the film everyday at the moment in terms of the pre-prep type work so it's an active project. Hopefully we'll be shooting it shortly.
Are you looking at a start date of end of this year or early next year?
AW: Hopefully the former, possibly the latter.
So you're on board and Keanu's also on board?
AW: How the **** would we make it if he wasn't on board? People always ask if Keanu's doing it and I'm like, 'No, I'm making a Bill movie.' Of course he's in it. I can't make a Bill & Ted movie without Keanu.
Have you seen a final script?
AW: Of course! We've been working on it for, like, six years. We're knee deep in the script, it's been written by Chris Matheson and Ed Solomon who wrote the first two, they are fantastic writers, and the script is great. We have a script, we have a director, we have a studio – we're just trying to nail down a start date.
What about co-stars? Is there a wish list?
AW: The short answer is yes. I can't really go further than that other than to say some people are going to returning from the original by the fact that they're in it. There will be new people because obviously, sadly, Rufus (George Carlin) isn't around anymore and they will be interesting actors too.
MGM remains the home of the Bill & Ted rights, but around the time Dean Parisot (Galaxy Quest) was hired to direct, it was noted that the filmmakers were looking to other studios for distribution. Based on what Winter says, perhaps MGM has found a studio to partner with since then.
If Parisot did start shooting the sequel later this year or early 2017, Reeves should have the time to fit the project into his busy schedule. The actor is currently working on John Wick: Chapter Two and Marti Noxon's To the Bone, but, besides Shane Carruth's The Modern Ocean, he has no other projects lined up that we know of.