'The Jungle Book' Featurette: Christopher Walken Is The King Of The Jungle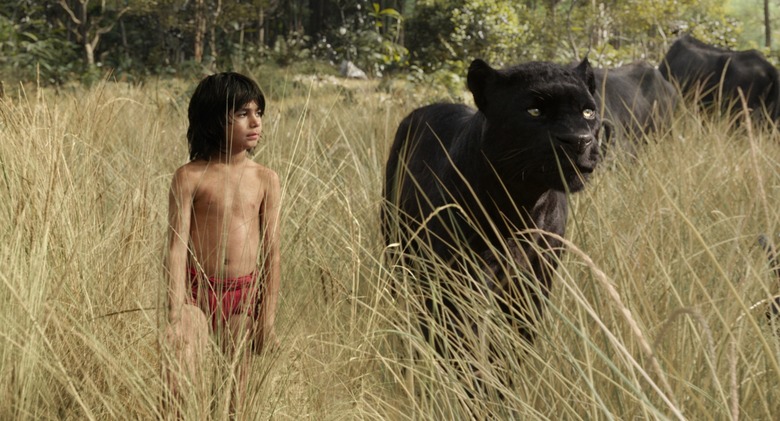 The Jungle Book's voice cast is stacked with talent. Sir Ben Kingsley, Bill Murray, Lupita Nyong'o, Christopher Walken, Scarlett Johansson, Idris Elba, and more help bring director Jon Favreau's (Chef) ambitious, CG-heavy reimagining of the Disney animated classic to life. To learn how they did it, check out the recent The Jungle Book featurette below.
So far all these featurettes for The Jungle Book have been more focused on the story and characters than the technical wizardry required to make the film. 99% of the animals and environments are CGI. The Jungle Book was shot in a studio in downtown Los Ageless, but while watching the film, you quickly forget that fact.
Here's the latest featurette for The Jungle Book:
All of the voice work is excellent, especially Idris Elba as Shere Khan. The cast plays a huge role in making this world believable. Because the vocal performances are filled with genuine emotion, all of the animals come across as real characters, not just talking CG animals.
The brief shoutout to Elba's performance aside, there really isn't a single scene-stealer in this movie. Every animal Mowgli (Neel Sethi) interacts with leaves an impression, although kids will likely go nuts for Bill Murray's Baloo, while adults will get a kick out of hearing Christopher Walken voice King Louie. Neither Murray or Walken's very identifiable voices break the reality of the film, though. Their distinct mannerisms suit the characters, which, as Sir Ben Kingsley says, are so well drawn.
Here's the official synopsis for The Jungle Book:
Directed by Jon Favreau ("Iron Man"), based on Rudyard Kipling's timeless stories and inspired by Disney's classic animated film, "The Jungle Book" is an all-new live-action epic adventure about Mowgli (newcomer Neel Sethi), a man-cub who's been raised by a family of wolves. But Mowgli finds he is no longer welcome in the jungle when fearsome tiger Shere Khan (voice of Idris Elba), who bears the scars of Man, promises to eliminate what he sees as a threat. Urged to abandon the only home he's ever known, Mowgli embarks on a captivating journey of selfdiscovery, guided by panther-turned-stern mentor Bagheera (voice of Ben Kingsley), and the free-spirited bear Baloo (voice of Bill Murray). Along the way, Mowgli encounters jungle creatures who don't exactly have his best interests at heart, including Kaa (voice of Scarlett Johansson), a python whose seductive voice and gaze hypnotizes the man-cub, and the smooth-talking King Louie (voice of Christopher Walken), who tries to coerce Mowgli into giving up the secret to the elusive and deadly red flower: fire.
The Jungle Book opens in theaters April 15th.