A New 'Doctor Strange' Photo Is Here For You To Nitpick And Dissect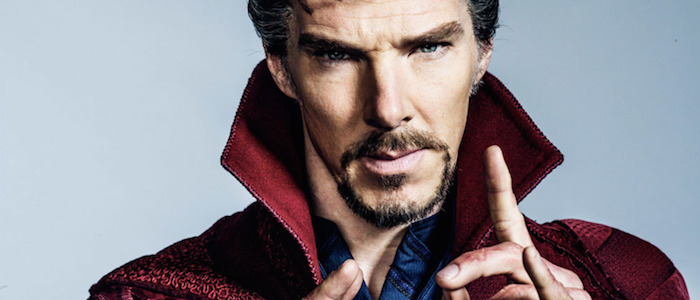 I won't even try to hide my excitement for Marvel Studios' upcoming Doctor Strange, which looks to take the Marvel Cinematic Universe down a refreshingly, uh, strange left turn. Dr. Stephen Strange, the Sorcerer Supreme, Marvel's master of mysticism, is one of my all-time favorite comic book characters and that fact that he's getting a movie makes me giddy. Stupidly giddy.
The character's cinematic look was initially unveiled on the cover of Entertainment Weekly, but we got a fresh look a few days ago when the film's production moved to New York City and star Benedict Cumberbatch stopped by a comic book store in full costume. Now a new, official Doctor Strange photo has arrived, offering us another look what a retired surgeon turned master magician looks like.
This image arrived without much fanfare (we first saw it over at Coming Soon) and it's hard to imagine anyone other than the most discerning Doctor Strange fan taking issue with it. Although the doctor's classic duds have been filtered through the MCU aesthetic (look at all of those textures!), it's still instantly and recognizable Stephen Strange, from the red cloak of levitation on his back to the Eye of Agamotto around his neck. Hell, it's still refreshing to see the goatee and gray sideburns – the look is certainly complete. All we need to know now is whether or not cinematic Strange is, like his comic book counterpart, a bit of a stuck-up jerk. Fingers crossed, right?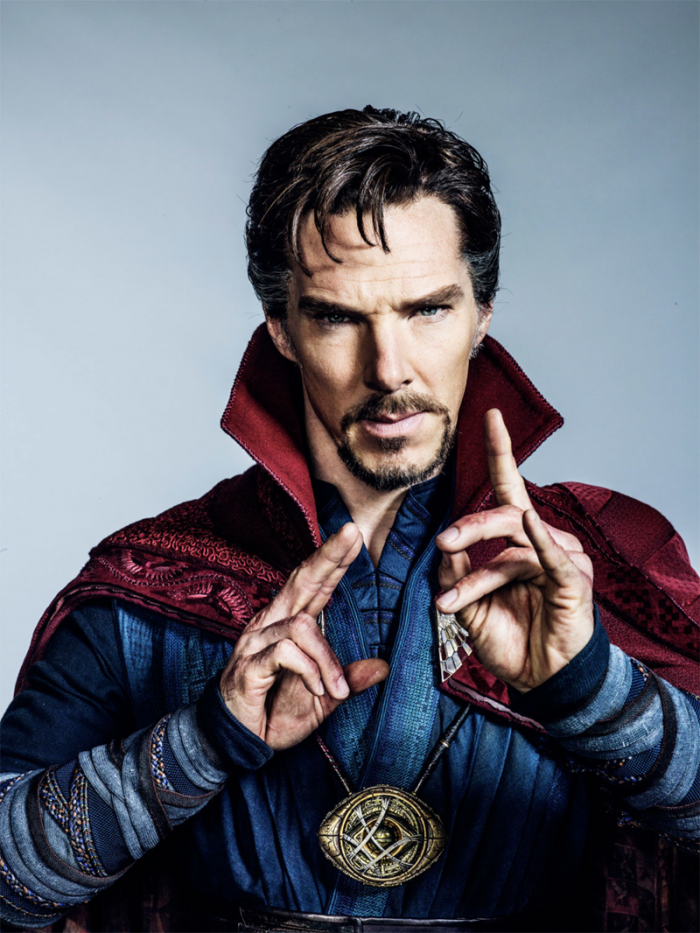 However, the most important aspect of this photo is Cumberbatch's hands. Seeing his fingers contorted into those classic Steve Ditko formations is enough to make a proper geek cheer out loud. Doctor Strange isn't Doctor Strange unless he's doing absolutely preposterous things with his hands to make the magic happen.
Doctor Strange will be the second chapter in the MCU's "Phase Three" after Captain America: Civil War. Scott Derrickson, the director of Sinister and The Exorcism of Emily Rose, is behind the camera. The absolutely preposterous supporting cast includes Tilda Swinton as the Ancient One, Chiwetel Ejiofor as Baron Mordo, Michael Stuhlbarg as Nicodemus West, Benedict Wong as Wong, Rachel McAdams as the still-mysterious love interest, and Mads Mikkelsen as the villain, whose identity has yet to be revealed. But he was recently spotted on set.
Mads Mikkelsen's #DoctorStrange character is very strange and really should see a doctor: https://t.co/UssTvTaYeH pic.twitter.com/KYzijxkwei

— Vulture (@vulture) April 5, 2016
He's certainly looks like he's playing Nightmare, who was the first villain Doctor Strange battled in the pages of Strange Tales #110. We'll find out when Doctor Strange hits theaters on November 4.