'Grace And Frankie' Season 2 Trailer: Netflix's Odd Couple Returns For More Hijinks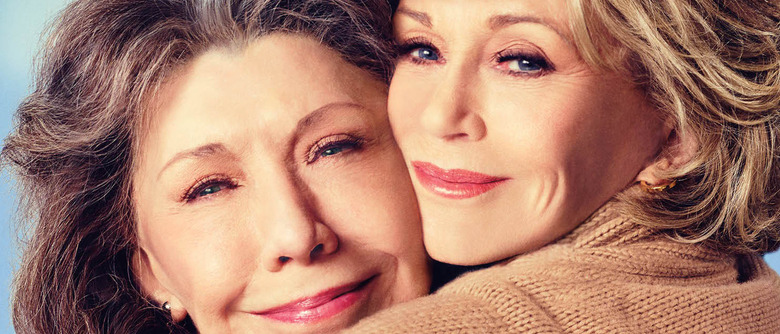 Grace and Frankie may not inspire the breathless hype of a Daredevil or even the giddy nostalgia of a Fuller House, but it's got plenty of charms of its own – starting with its two lovely leads, Jane Fonda as WASP-y Grace and Lily Tomlin as granola Frankie. The first season saw these polar opposites form an unlikely bond after their husbands (played by Sam Waterston and Martin Sheen) announced they were leaving their wives for each other, and the second season sees their friendship tested and further tempered by health scares, new romances, and more. Watch the Grace and Frankie season 2 trailer below. 
Grace and Frankie isn't groundbreaking television. A lot of the jokes are familiar, and the odd-couple dynamic is a tried-and-true formula for TV comedy. But it is unusual in a number of ways. In a sea of millennial dramedies and superhero dramas, it's a sitcom about two older women — exactly the kind of characters who rarely get the spotlight in mainstream shows and movies. And rather than play the characters' unusual situation for cheap laughs, Grace and Frankie tries (with sometimes uneven results) to dig into the real pathos that comes out of it. If you're ready to spend some more time with these ladies, Grace and Frankie season 2 hits Netflix May 6.
In Grace and Frankie, Jane Fonda ("Grace") and Lily Tomlin ("Frankie") star as two women whose lives are turned upside down when their husbands reveal they are gay and leave them for each other. Both sparring partners and partners-in-crime, Grace and Frankie form an unlikely and unbreakable bond and face their uncertain futures head-on, hand-in-hand. Together with their ex-husbands and children, they discover the true definition of "family," with laughter, tears and plenty of mood enhancers along the way.
From executive producers Marta Kauffman ("Friends") and Howard J. Morris ("Home Improvement"), the hilarious and heartbreaking comedy returns for a second season with new adventures and challenges for the newly-formed clan. Their unconventional bonds are tested by health scares, business ventures, harmful secrets, and new romantic relationships. Grace and Frankie learn some of life's most difficult lessons in their golden years and come to cherish each other despite their differences. The series also stars Martin Sheen and Sam Waterston, along with Brooklyn Decker, Ethan Embry, Baron Vaughn and June Diane Raphael.