Erik Bauersfeld, The Voice Of Admiral Ackbar In 'Star Wars', Has Died At 93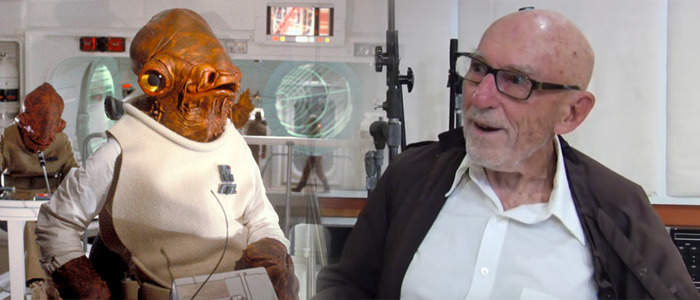 Plenty of ancillary and extraneous characters in the Star Wars universe end up getting some kind of fan following, no matter how little screentime they get in the movies. But few minor characters were more beloved than Admiral Ackbar, the Rebel officer best known for shouting "It's a trap!" in Return of the Jedi, a line that would become one of the most popular memes on the web.
Unfortunately, we have some sad news for Admiral Ackbar fans as the man behind his familiar voice has passed away. Erik Bauersfeld, a voice actor and radio drama producer, died yesterday in his California home at the age of 93 due to natural causes. We remember the man and his work below.
In addition to being the voice of Admiral Ackbar in Return of the Jedi, Bauersfeld also provided the voice to Bib Fortuna, the right-hand man to Jabba the Hutt, who ends up getting Jedi mind tricked by Luke Skywalker. The actor explained how he ended up landing these roles in movies on the Bay Area Radio Drama website:
The voice work I did in movies was accidental. I was working with Randy Thom on radio dramas at his technical quarters at Lucasfilm. One day Ben Burtt, sound designer for Star Wars, came by and asked if I would audition for a voice in the movie.
In a recent interview with the San Francisco Chronicle (via Deadline), Bauersfeld explained that he was merely shown a picture of Admiral Ackbar. He did the voice off the cuff, and the rest is history. If you'd like to hear more about the actor's career, here's the interview in question:
In addition to his work on Star Wars, Bauersfeld also lent his voice to Crimson Peak and A.I. Artificial Intelligence. Most recently, he reprised his role as Admiral Ackbar for Star Wars: The Force Awakens. It remains to be seen if the character will return in Star Wars: Episode VIII, but if he does, he'll have a new voice actor bringing him to life this time.
Bauersfeld was always grateful for his place in Star Wars, and he was always happy to meet fans and sign autographs. In fact, he was so generous that he never charged fans for his signature either. That's a good man right here. Erik Bauersfeld will be missed, but his legacy will live forever in the Star Wars universe. Our thoughts go out to his friends and family.