Cool Stuff: Print Your Own 'Star Wars' Trilogy Blu-Ray Covers With Ralph McQuarrie Artwork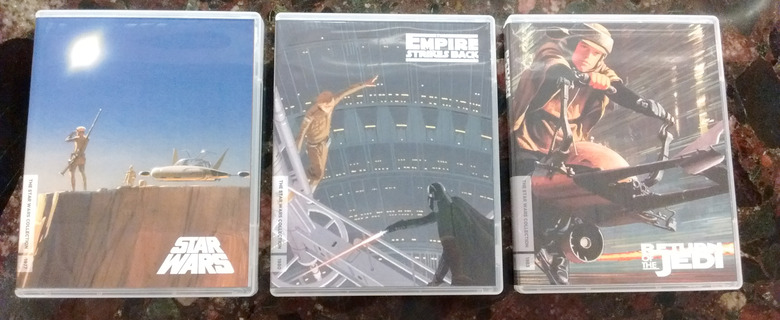 We may receive a commission on purchases made from links.
There have been a couple different official Blu-ray releases of the original Star Wars trilogy. First it arrived in a box set that featured all six movies, and then they were re-released in individual steelbooks last year leading up to Star Wars: The Force Awakens in theaters. However, we're still waiting for the rumored official Blu-ray release of the theatrical cuts without the special edition "enhancements" that have not pleased most Star Wars fans.
However, if you already have the original Star Wars trilogy on Blu-ray in some form, but you're looking to make the trio of movies look a little more aesthetically pleasing on your shelf, we have something cool for you. One fan has created custom Blu-ray covers with art from Ralph McQuarrie that you can print out for your own collection. See the artwork below.
Here's the Ralph McQuarrie Star Wars Blu-ray covers from Kyle Kenworthy on Imgur:
The cases he used are the same ones that Criterion uses for their Blu-ray releases. If you're thinking, "Hey, I don't want to make one of my precious Criterion Blu-ray movies homeless," don't worry. This is the internet, so you won't have to look too far to find some empty, replacement Criterion Blu-ray cases so that you can have a new home for your Star Wars trilogy Blu-rays. For the printable versions of the Blu-ray artwork, head to this link.
Otherwise, today is April 5th, which means if you were strong enough to hold off on buying the Digital HD copy of Star Wars: The Force Awakens over the past four days, then you can now go to the store and get the movie on Blu-ray and DVD.