Charlize Theron Eyes 'Young Adult' Reunion With Jason Reitman And Diablo Cody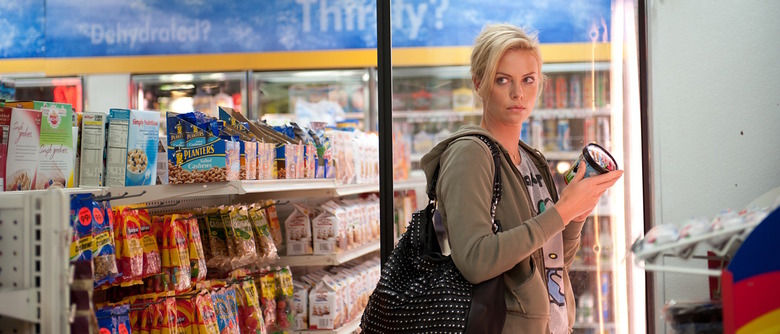 Charlize Theron has had some pretty great roles in her time, but one of her best was in Jason Reitman's Young Adult. She was mesmerizing as as selfish and troubled writer Mavis Gary, with help from some sharp dialogue written by Diablo Cody. So it comes as fantastic news to hear the team's thinking of getting back together again. Theron is reportedly eyeing a new project written by Cody, which Reitman will direct. 
Deadline reports Theron is "in the early stages" of a reunion with Reitman and Cody. The movie doesn't have a title and plot details are being kept under wraps, but it's said to be about motherhood. While the project doesn't have a studio or any investors at this point, that's sure to change if Theron, Reitman, and Cody are able to commit.
Reitman made a splash with his first feature film, Thank You for Smoking, but he and Cody really broke out together with Juno — his second movie and her first. The heartfelt dramedy won Cody an Oscar for Best Original Screenplay Oscar and got Reitman nominated for Best Director. The two joined forces again a couple of years later for Karyn Kusama's Jennifer's Body, which Cody wrote and Reitman produced, and then again in 2011 for Young Adult.
The past few years have been a bit uneven for Reitman. After Young Adult, he veered into drama with the critically panned Labor Day and the even more poorly received Men, Women & Children. Reitman deserves credit for trying to branch out — he could've easily coasted on clever dramedies for the rest of his life — but neither of the films really worked. At least his foray into television has been more promising. He's an executive producer on Hulu's Casual, which seems closer to his usual wheelhouse in terms of tone.
Since Young Adult, Cody has tried her hand at directing (Paradise) and returned to the small screen for Tig Notaro's semi-autobiographical Amazon series One Mississippi. She also wrote the Meryl Streep dramedy Ricki and the Flash and has been working on a Barbie movie, based on the iconic doll. As for Theron, we hardly need to tell you what she's been up to. She put in an instantly iconic performance as Furiosa in Mad Max: Fury Road last year, and has The Huntsman: Winter's War coming out later this month.