Which Comedian Turned Down An Opportunity To Appear In 'Star Wars: The Force Awakens'?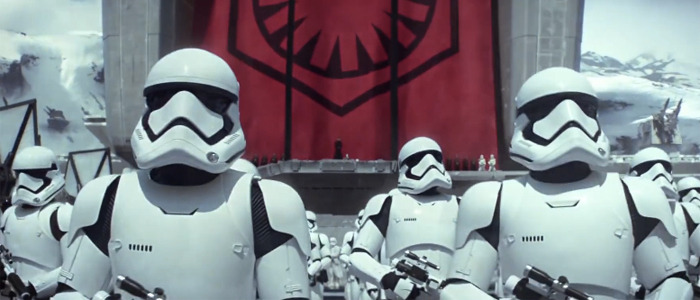 By now you're probably well aware that Star Wars: The Force Awakens was even more star-studded than it appeared at first glance. That was Simon Pegg lurking inside that Unkar Plutt costume, and Bill Hader and Ben Schwartz helping to voice BB-8, and Daniel Craig and Nigel Godrich and Michael Giacchino as some of those stormtroopers, and so on and so forth. That's just the kind of property Star Wars is: one so beloved, even big stars are willing to work as faceless extras in it.
But even the power of the Force has its limits. And it reportedly met its match in one A-list comedian who was offered the chance to appear in a cameo role — and turned it down. Find out who and why after the jump. 
Empire spoke with Force Awakens editors Mary Jo Marke and Maryann Brandon, creature designer Neal Scanlan, and concept artist Doug Chiang for the home video release of the film, and learned some interesting bits of trivia along the way. Like the fact that Jon Stewart rejected the opportunity to appear in the film. According to the Force Awakens team, Stewart wanted to play a good guy but stormtroopers were the only characters left for the taking. So rather than cross over to the dark side, he opted not to be in the movie at all.
Stewart has made no secret of his affection for the Star Wars series. Back in 2014, he even teamed up with former colleague and fellow Star Wars fanatic Stephen Colbert to help promote Omaze's Star Wars: Force for Change charity contest. Ironically, the prize in that sweepstakes was a chance to appear as an extra in The Force Awakens – though that guy got to play a random bar patron, not a stormtrooper.
But perhaps Stewart just figured he didn't need a Force Awakens cameo, given that he's already part of the Star Wars canon in another, more unusual way. In 2010, Stewart interviewed George Lucas at Star Wars Celebration and asked what the name of Obi-Wan Kenobi's home planet was. Lucas jokingly responded that it was "Stewjon," and the name stuck. Even now, if you look up Obi-Wan Kenobi in the official StarWars.com databank, his planet is listed as Stewjon.
In the end, it doesn't really matter that Stewart decided not to cameo in The Force Awakens. His role would have been a very small one, and he almost certainly would have been unrecognizable under that helmet. But let this be a reminder to keep your eyes and ears peeled when Rogue One and Episode VIII roll around — you never know which famous person might secretly be in the movie. Maybe it'll even be Stewart next time, if Gareth Edwards or Rian Johnson have managed to find a light side role for him to slip into.