Denzel Washington Shooting 'Fences' Adaptation This April; Broadway Cast Members Will Star In The Film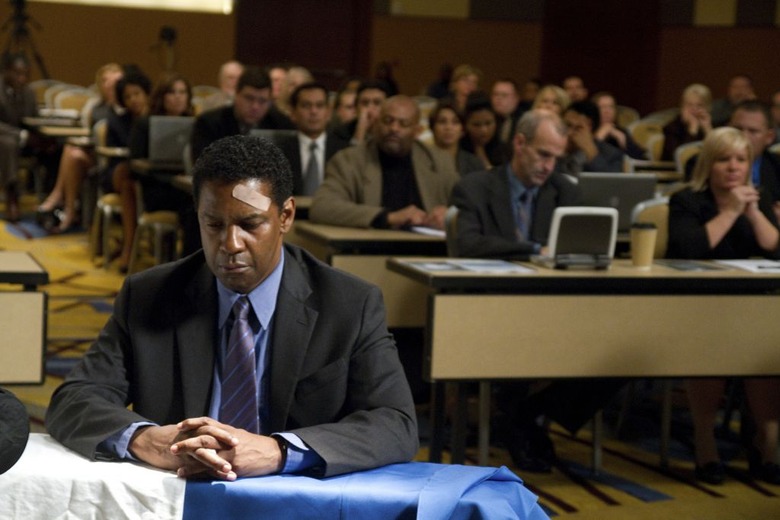 It's been almost a decade since Denzel Washington has directed a feature film, which is a bit of a shame, since his two directorial efforts, Antwone Fischer and The Great Debaters, showed he's capable of far more than acting. After starring in August Wilson's Fences on Broadway, the actor has decided to return to the director's chair and bring Wilson's story to the big screen.
Get the latest updates on Washington's Fences adaptation, including new stars and a new studio home, below.
The actor was greeted with plenty of acclaim when he starred in Fences on Broadway, a performance that scored him a Tony Award. According to Washington, he's been planning on directing and starring in his own movie adaptation of Fences ever since he first read the screenplay, before he even starred in the show on Broadway:
It reawakened me about the work, and my commitment to the work. I said to myself: 'I've got to dig deeper'. The reason I did Fences is that Scott Rudin sent me the script August Wilson wrote – the only one of his plays that he wrote as a screenplay – to act and direct. I really do want to direct this.
Washington played Troy Maxson, a 53-year-old sanitation employee (originally played by James Earl Jones) living in Pittsburgh. Maxson was once a promising baseball player. The character struggles with the life he's living and the life he could've had. Fences is part six in Wilson's ten-part "Pittsburgh Cycle," a series of plays about life in Pittsburgh's Hill District, where the playwright was raised. 
Deadline has confirmed that Mykelti Williamson and Russell Hornsby will reprise their Broadway roles for the feature film. In addition to Williamson and Hornsby, Viola Davis has confirmed she'll work with Washington again on Fences. The adaptation will also star Jovan Adepo (The Leftovers) and Saniyya Sidney (Roots).
Now set up at Paramount, Washington was originally going to direct the film for HBO. The actor wanted to bring 10 of Wilson's plays to the cable network, but we've yet to see this plan come to fruition:
He did 10 plays. I've been given the opportunity by the August Wilson estate. I'm directing and producing and acting in [Fences] and I'm executive producing the other nine. I made a deal with HBO...We're going to do one a year for the next nine years. I'm really excited about that. His stories are specifically African American stories, but the themes are universal. Families, love, betrayal whatever the theme is. People relate and enjoy listening to or seeing his work. He was just a bright, brilliant shining light who was here and then he was gone, but his work will live forever to be interpreted by actors and directors for as long as we're here.
Maybe there's still a chance we'll see the actor and HBO collaborate, but at the moment, he's giving Fences the big screen treatment, with the help of Angels in America playwright Tony Kushner. Kushner, who also wrote Munich and Lincoln, is an associate producer on the project. Filming will begin in Pittsburgh this April. The plan is to release Fences during awards season later this year.