A New 'Star Wars' Stage Show Has Debuted At Disney's Hollywood Studios Theme Park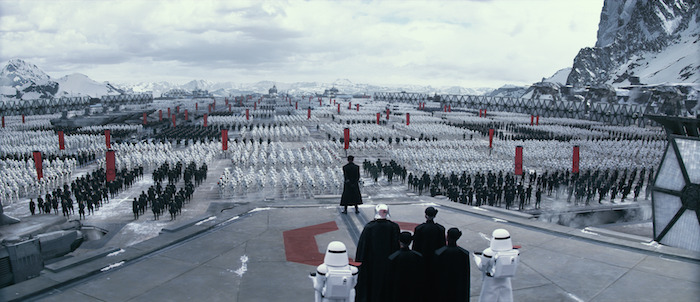 Star Wars characters haven't been strangers in Disney theme parks for some time now. Even before the cooperation acquired Lucasfilm and the Star Wars franchise, Darth Vader and Stormtroopers and other familiar faces were regular sights at Walt Disney World's Hollywood Studios theme park in Orlando, Florida as part of the Star Wars Weekends event. And if you go back before that, there's Star Tours, the ever-popular motion simulator attraction.
But between Disney now owning Star Wars and the upcoming Star Wars land being constructed in the Hollywood Studios park, these characters have officially been upgraded from guest stars to main cast members. Heck, they now have their own live stage show and everything.
The show, titled Star Wars: A Galaxy Far Far Away premiered today and Inside the Magic posted footage of the premiere. As you can see in the clips below, it's a fairly straightforward and entirely plotless affair, an excuse for beloved characters from across all seven Star Wars films to appear in person, strike camera-friendly poses, and elicit cheers. It's more of a pageant than a play, an advertisement for the character you'll probably be able to have your picture taken with in another time and place.
If you want to watch the full show, which runs about 15 minutes, you can do so using the embed below. The structure is basic enough: a video presentation recaps the Star Wars saga and then various characters take the stage, even if them being in the same place doesn't make sense at all. BB-8 and Darth Vader and Darth Maul and Kylo Ren all stand within ten feet of each other at one point. Nonsensical? Yeah. Crowd-pleasing? Sure thing. And Disney has to do something to keep guests at Hollywood Studios entertained, especially since a massive chunk of the park is currently under construction for the upcoming Pixar and Star Wars-themed lands.
Inside the Magic also shared footage of an additional show, where Captain Phasma leads a squad of Stormtroopers on a march through the park. Amusingly, Phasma has more to do in this silly parade than she does in the entirety of Star Wars: The Force Awakens.
Elsewhere, the Disney Parks Blog posted this photo of BB-8 peeking out from behind a fence and...staring at a bunch of dirt. Huh.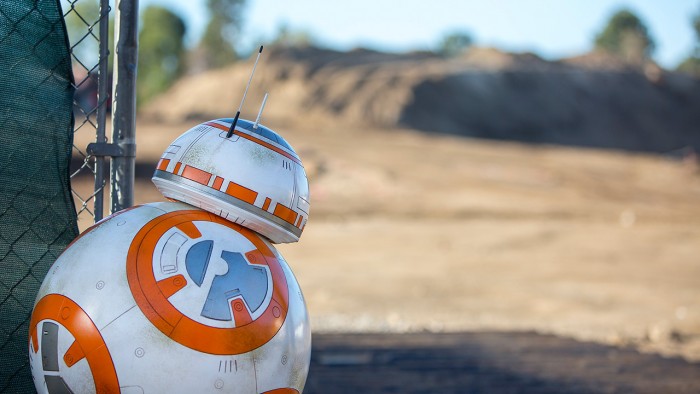 But Twitter had already figured this one out a few days earlier – BB-8 is staring at the site of Disneyland's version of Star Wars Land, which is officially in the "moving tons of dirt around" phase of construction.
Lot of dirt being moved around on the Star Wars side of Disneyland pic.twitter.com/NQHJvHn74w

— Disneyland Doc (@DLdocumentary) April 1, 2016