'Swiss Army Man' Trailer: Here's That Daniel Radcliffe Farting Corpse Movie You've Heard So Much About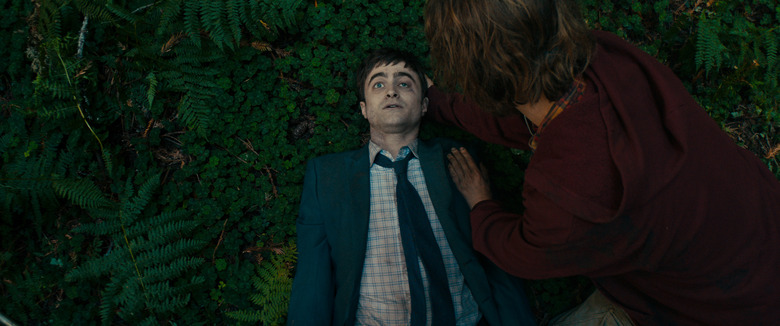 Every year at Sundance, there are a small handful of films that get hyped up sight unseen: your Boyhoods, your The Raid 2s. A few others come out of seemingly nowhere to become the toast of the town, a la Beasts of the Southern Wild or Birth of a Nation. Dozens more still fly under the radar the whole time, flitting to the next festival in hopes of building more buzz elsewhere.
And then there are the films propelled to international headlines on a burst of pungent corpse farts, prompting walkouts at the premiere, arguments for the rest of the fest, and head-scratching queries from everyone following along at home. I'm talking, of course, about Swiss Army Man, Daniel Kwan and Daniel Scheinert's weird (and weirdly beautiful) buddy dramedy about a stranded man (Paul Dano) and the dead body (Daniel Radcliffe) that may just be the key to his salvation. A24 picked up this oddity at Sundance and are now prepping it for a summer release, so check out the first Swiss Army Man trailer after the jump. 
Swiss Army Man is aggressively strange and crude, and it's really not so surprising that it polarized audiences at Sundance. Some people I spoke with dismissed it as the very worst of the fest, while others counted it among their very favorites. The trailer should give you a good idea of how gross and dark this movie can be, but it also does a reasonable job of conveying the film's poignant tone, and fairy tale-ish visuals. I caught Swiss Army Man at Sundance and was especially impressed by Radcliffe's performance as dead body Manny — he somehow manages to be convincingly dead and convincingly undead at the same time. The oddball story is more than just a gimmick, though, as I wrote back in January:
But whatever we think of Hank as an individual, his insecurities feel universal. There's a pervasive sense of sadness in Swiss Army Man about the way that all the societal rules meant to keep our communities running smoothly also keep us from being truly honest with one another, with exposing the ugly parts that bind us as much as our best qualities do. "If my best friend won't fart in front of me," Manny says at point, "what else is he keeping from me?"
Swiss Army Man arrives June 17.