'The Flash' Movie May Have The Scarlet Speedster Teaming Up With Cyborg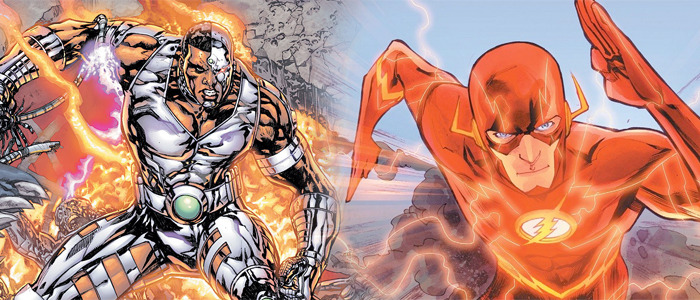 One of the chief complaints about Batman v Superman: Dawn of Justice has been a convoluted, unnecessarily complex story. But from my perspective, one of the more enjoyable and promising elements of the film were the seeds planted for the movies that will feature the rest of the heroes who will form Justice League. Even though the little teases of heroes like Aquaman, The Flash and Cyborg aren't pulled off as smoothly as the movie-stealing appearance of Wonder Woman, they certainly piqued my curiosity.
Now a new interview with producer Deborah Snyder gives a hint as to what we can expect from a standalone The Flash movie, and it involves teaming up with Cyborg, who had one of the more confusing Justice League appearances in Batman v Superman. Find out what Deborah Snyder had to say about The Flash movie after the jump.
Speaking with Forbes, Deborah Snyder again addressed the concern that all the movies in the DC expanded universe will have the same dark tone of Batman v Superman, something she talked about a couple weeks ago. But while talking about that subject again, she may have revealed an interesting detail about The Flash movie:
"As you can imagine, when we get to the Flash movie, Ezra Miller and Ray Fisher — who plays Cyborg — are kind of our youngest characters, and they have a really nice comradery with each other. Ezra is super funny, so the tone of that film will be very different than the rest of them."
Snyder seems to have revealed that The Flash movie will see the Scarlet Speedster teaming up with Cyborg. However, maybe she's talking about their camaraderie in Justice League: Part One since that is scheduled to hit theaters on November 17, 2017, which will be release five months before The Flash gets his own movie on March 16, 2018. Even if she is, that doesn't mean Cyborg won't pop up in The Flash movie.
There always a chance Warner Bros. isn't sure if Cyborg will actually get his own movie, even though it's already dated for April 3, 2020. Maybe they'll see how he works in Justice League and in The Flash movie before making a final decision. Perhaps he'll become a recurring character like Hawkeye or Black Widow in the Marvel cinematic universe. That's something we likely won't know for at least a couple years though.
The fact is, Warner Bros. is creating a universe where characters may pop in and out of each other's movies a little more frequently than they do in the Marvel cinematic universe. After all, Wonder Woman made her debut in Batman v Superman, and Batman will be popping up in Suicide Squad. So there's no limit as to where and when these superheroes can show up, and that could be pretty exciting.