Officially Confirmed: Dave Bautista Cast In 'Blade Runner 2'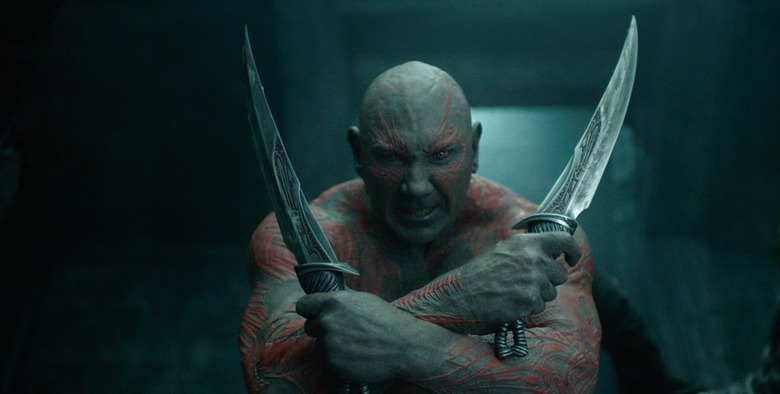 Update From Editor Peter Sciretta: On April 2nd 2015, Dave Bautista posted a photo hinting that he may have joined the cast of the Blade Runner sequel. Now Warner Bros has sent out a press release confirming the tease.
You can read the whole press release below, which reveals no details about Bautista's character in the upcoming sequel other than saying its an "important supporting role."
DAVE BATISTE JOINS 'BLADE RUNNER' SEQUELLOS ANGELES, CA, APRIL 4, 2016 – Dave Bautista will join Ryan Gosling, Harrison Ford and Robin Wright in an important supporting role in Alcon Entertainment's sequel to Ridley Scott's 1982 masterpiece BLADE RUNNER, it was announced by Alcon co-founders and co-CEO's Andrew Kosove and Broderick Johnson.
Director Denis Villeneuve (Sicario, Prisoners) is directing. Principal photography is scheduled to begin July 2016 and the film will be released by Warner Bros. in North America. Sony Pictures Releasing International will distribute in all overseas territories in all media.
The film is set several decades after the 1982 original, with Harrison Ford reprising his iconic role as Rick Deckard. The film is written by Hampton Fancher and Michael Green, and succeeds the initial story by Fancher and David Peoples based on Philip K. Dick's novel Do Androids Dream of Electric Sheep. Story details, as well as Bautista's character, are not being revealed.
Alcon Entertainment acquired the film, television and ancillary franchise rights to BLADE RUNNER in 2011 from the late producer Bud Yorkin and Cynthia Sikes Yorkin to produce prequels and sequels to the iconic science-fiction thriller. Cynthia Sikes Yorkin will produce along with Johnson and Kosove. Bud Yorkin will receive producer credit.
Frank Giustra and Tim Gamble, CEO's of Thunderbird Films, will serve as executive producers. Ridley Scott will also executive produce. Bill Carraro will executive produce.
Bautista recently appeared in Marvel Studios' blockbuster hit Guardians of the Galaxy and the newest installment of the James Bond franchise Spectre from Columbia Pictures. His upcoming projects include Lionsgate's 2016 action film Marauders starring Bruce Willis and Adrian Grenier as well as Guardians of the Galaxy Vol. 2 where he will reprise his role as Drax the Destroyer alongside Chris Pratt and Zoe Saldana, due out 2017 from Marvel Studios.
Original story from Ethan Anderson from April 2nd 2016 follows:
After beginning his career as a professional wrestler, Dave Bautista is making waves like Dwayne Johnson by creating a lucrative career as a movie star as well. After his breakthrough role in Guardians of the Galaxy, the actor landed a role as a James Bond henchman in Spectre and he will also be kicking some ass in the reboot Kickboxer: Vengeance. Right now he's busy working on Guardians of the Galaxy Vol. 2, but that's not the only sci-fi title in his future.
Dave Bautista has teased some "really exciting news" on Twitter, and it appears as if he's joining the cast of Blade Runner 2 alongside returning star Harrison Ford and Ryan Gosling. Find out what we know so far after the jump.
Here's the tease of Dave Bautista joining Blade Runner 2, tweeted this morning:
I can't wait to share some really exciting news... pic.twitter.com/fI2VjDjcXM

— Dave Bautista (@DaveBautista) April 2, 2016
What he's holding in his hand is an origami unicorn. And if you've ever seen Blade Runner, then you know that's a pretty big hint that Bautista is probably going to be in the sequel that will be directed by Denis Villeneuve (Sicario, Prisoners). Beyond this hint, it was Warner Bros. that called our attention to the Twitter update. Since the studio is behind Blade Runner 2, we just connected the dots and here we are.
For those who don't get the reference, an origami unicorn is left for Rick Deckard (Harrison Ford) at the end of Blade Runner as a reference to a dream that he had. There are some interesting theories about the significance of the unicorn in Blade Runner, and they change slightly depending on which cut of the movie you watch. And depending on what you believe with regards to the significance of the unicorn, there might be a hint here as to what kind of character Bautista will be playing. Will it be a real person or a replicant? We'll just have to wait and see.
Details on Blade Runner 2 are being kept under tight wraps. However, producer Ridley Scott has hinted that this could lead to more Blade Runner sequels. In addition, the director of the first film also talked about the opening to the sequel back in November, giving us an idea of what we can expect from the follow-up.
This past week Robin Wright joined the cast as an unknown character. Otherwise, we know the script is coming from the original film's scribe Hampton Fancher with help from Michael Green. In addition, cinematographer Roger Deakins will ensure that the film will look as gorgeous as it possibly can.
This will be a highly anticipated film for sci-fi fans everywhere, and we can't wait to see how it turns out. Blade Runner 2 arrives on January 12, 2018.