'Batman V Superman' Box Office Drops A Record 81% In Second Weekend, But What Does That Mean?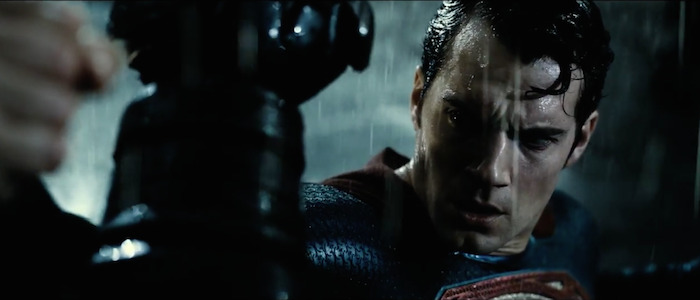 UPDATE: Variety reports estimates that peg Batman v Superman: Dawn of Justice taking in $52.4 million for its second weekend. That's a 68% drop from its opening $166 million weekend. It's not an unexpected drop, but the movie may not have long legs at the box office. The 81% drop from Friday-to-Friday still stands, but these are the whole weekend numbers that are now coming in. Our original story from April 2nd, 2016 follows below.
Even though Batman v Superman: Dawn of Justice raked in a huge amount of cash with a record-setting haul of $166 million, the second weekend box office was less impressive than anticipated. For its second weekend, the comic book battle landed $15.35 million at the box office, and that puts the full weekend estimates at about $51 million, which is less than the $58 million that was projected going into the weekend. That means the second weekend for Batman v Superman box office saw an 81.2% drop, which is one of the biggest Friday-to-Friday drops any blockbuster has ever seen.
More on the Batman v Superman box office drop and what they mean for the movie's future box office success after the jump.
Forbes has the numbers for the second weekend box office of Batman v Superman, and they're worth looking into with a little more explanation. First of all, it's important to note that the previous Friday total of $81.5 million included $27.7 million from the early Thursday showings of the movie. So that makes the drop a little more steep than it otherwise might have been. But at the same time, if you only look at the $53.8 million it made on its first Friday, that's still a 71.5% drop. That's not unheard of, but it's also not all that great. Here's are some other major box office drops for a point of comparison:
X-Men Origins: Wolverine (-75.8%)
Those numbers also include the Thursday previews, so Batman v Superman's drop is still bigger. A worse drop in box office has been seen in the likes of Harry Potter and the Deathly Hallows Part 2 and High School Musical 3 with an 84% and 90% drop respectively.
Sure, these are just comparisons of Friday numbers, but if you look at the projected weekend total of $51 million, meaning a drop of 69.2% That puts Batman v Superman numbers in the box office ballpark of movies like X-Men Origins: Wolverine, Elektra, Jonah Hex, and Hulk, and fans know that those movies aren't good company. And there's a reason that this drop for Batman v Superman could be a little worse as far as its continued success is concerned.
What's worrisome about this drop is that Batman v Superman isn't facing any big competition at the box office this weekend with the biggest new release being God's Not Dead 2 and previous releases like Zootopia and My Big Fat Greek Wedding landing the #2 and #3 spots for the weekend. Take that into account with the fact that a lot of schools are on spring break right now, and the movie really shouldn't have dropped this much at the box office. So imagine how much the numbers will drop with movies like The Jungle Book just around the corner.
We've said before that box office numbers are no indication of the quality of a film, so this doesn't appear to be happening solely because of negative reviews or bad word of mouth from fans who haven't liked the movie (though it probably doesn't help). Instead, what it means is that there doesn't seem to be a large amount of interest in the movie beyond those who were excited enough to see it immediately on its opening weekend. After all, that first weekend for the movie included between $20-$25 million in advance ticket sales. And now that those people have seen the movie, there isn't much interest beyond that.
If you need further evidence of a lack of interest, The Wrap recently reported that Fandango is seeing repeat ticket prices 30% higher than any typical blockbuster. That means a good chunk of the box office for this weekend, at least among Fandango's users, have already seen the movie. What that means is that the movie won't have long legs at the box office in the way that something like Star Wars: The Force Awakens did.
Could this be bad news for Wonder Woman or Justice League? There's the potential for a lack of interest, but since Wonder Woman was one of the best parts of the movie, even for those who didn't like it all that much, I think the superheroine flick will be fine. As for Justice League, since that's the first time we're going to see that superhero ensemble on the big screen, there's no doubt that movie will be big too. But in the case of Batman v Superman, the two superheroes don't seem to be pulling their weight as much as they should.