'Search Party' Red-Band Trailer: T.J. Miller, Thomas Middleditch, And Adam Pally Channel 'The Hangover'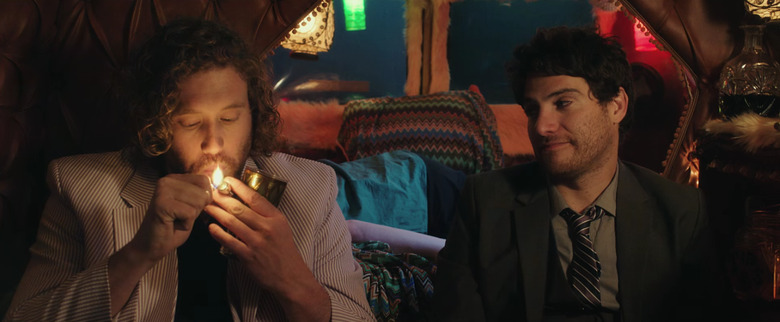 It's been nearly three years since Scot Armstrong started shooting Search Party, an R-rated comedy starring Happy Endings alum Adam Pally and Silicon Valley stars T.J. Miller and Thomas Middleditch. Originally, the plan was for Universal to open Search Party in fall 2014 — but fall 2014 came and went without a release, and it's only now, as we creep into summer 2016, that it's finally getting ready to hit theaters.
Search Party has strong shades of The Hangover, which seems appropriate enough considering Armstrong wrote The Hangover Part II. Miller and Pally play Jason and Evan, friends of groom-to-be Nardo (Middleditch). Convinced Nardo is making a huge mistake, Jason bursts into the wedding and ruins it. A devastated Nardo heads to Mexico to try and win back his bride, only to wind up naked and stranded and alone with no one to call for help but Jason and Evan. Watch the Search Party red-band trailer below. 
Focus World dropped the Search Party red-band trailer on YouTube.
A long-delayed release date isn't always a sign that a movie is bad — plenty of perfectly good movies have been screwed by circumstances outside of their control, like confused execs or studio financial woes or real-life disasters. So we'll just sit back and hope for the best from this one. On the plus side, Search Party looks poised to accidentally benefit from the rising paths of its leads. Miller and Middleditch have gotten much more famous in the intervening years, thanks to Silicon Valley, and co-star Krysten Ritter is now the fawned-over star of Marvel's best TV series, Jessica Jones.
Search Party will finally, at long last, hit theaters, on demand, and digital HD on May 13. Jason Mantzoukas, Alison Brie, and Shannon Woodward also star.
Wedding bells threaten to break up three best friends' long-running bromance, but they aren't going down without a fight in Search Party, the directing debut of screenwriter Scot Armstrong (The Hangover Part II, Old School). Convinced that his buddy Nardo (Thomas Middleditch) is making the mistake of a lifetime by marrying Tracy (Shannon Woodward), Jason (T.J. Miller) puts a dramatic end to their wedding. When the furious bride decides to take her Baja honeymoon solo, Nardo follows her south of the border—where the lovesick groom is carjacked and left stranded, naked and penniless in a remote part of the Mexican desert. With no one else to call for help, Nardo sends out an SOS to Jason and their pal Evan (Adam Pally), an up-and-coming ad exec slated for an all-important business meeting the next morning. As Jason and a reluctant Evan rush to Nardo's rescue, the trio embarks on a series of increasingly outrageous misadventures involving con artists, drug smugglers and even the Federales in this wild and wacky action comedy.