'Alien' Day Is Coming In April With Official Reeboks, Movie Screenings, Collectibles & More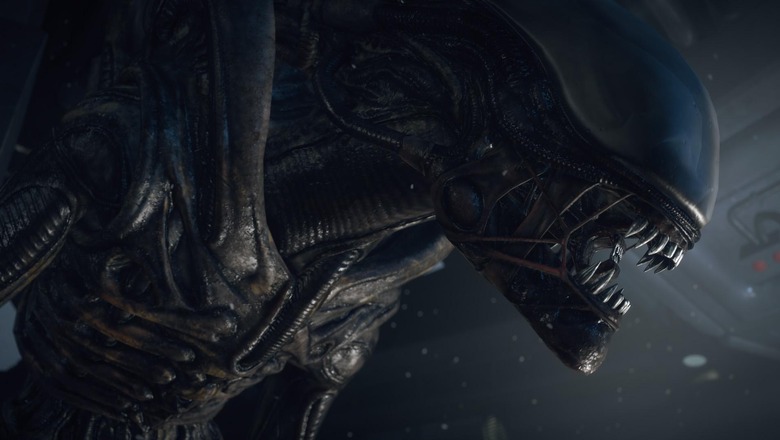 Last year, fans went crazy for Back to the Future Day on October 21st, 2015, celebrating the day that Doc and Marty go into the future in Back to the future Part II. Now 20th Century Fox is hoping to gin up the same kind of excitement for Alien with a special celebratory day.
On April 26th, fans can celebrate Alien Day, inspired by the planet LV-426 (get it?) from the original Alien. If you're an Alien fan, this day comes with a slew of cool goodies, contests and screenings, including things like official Reebok shoes inspired by the ones Ripley wears in Aliens, new action figures, and an online trivia contest. Get the details below.
Official Aliens Reeboks
Perhaps the coolest thing to come out of Alien Day will be the official Reebok Alien Stomper, inspired by the shoes Sigourney Weaver wears in Aliens. The shoes will be released in limited edition on April 26th at Reebok.com and at Reebok stories around the world. Here's what they look like:
In addition, the mid tops worn by Lance Henriksen as the Android Bishop will be made available too. So all you sneakerheads should be prepared to stand in line or get your browser ready for plenty of refreshing. Hopefully it goes better than the botched release of Pepsi Perfect for Back to the Future Day.
Other Collectibles and Memorabilia
Reebok isn't the only company getting in on the Alien Day festivities. Here's a list of participating licensing partners along with what they're bringing to the table:
Alien Digital Pinball– Fox Digital Entertainment, in partnership with Zen Studios, will launch three digital pinball tables via iTunes, Google Play, PlayStation Network, XBOX Live and Steam.
DC Entertainment – Together with Dark Horse Comics, DC Entertainment will re-release the fan-favorite Batman vs Alien comics for the first time in over a decade
Fright Rags – Horror apparel retailer Fright Rags will release limited edition Alien-themed apparel
The Upper Deck Company – The leading trading card company will launch Aliens Anthology Collector Trading Card and the Aliens "Vs" Trading Card Game system
Hot Yoys – The Hong Kong-based collectible manufacturer is announcing an all-new Alien Ripley 1/6th figure
Kotobukiya– The Japanese manufacturer unleashes an assortment of highly detailed collectables this spring including a

1:10

scale Warrior Drone ARTFX+ statue from Aliens and mini "Big Chap" figurines posed to strike up conversation around your home or office!
Insight Editions – The illustrated pop culture book publisher will release the trade edition of the Weyland-Yutani Report
An all-new Alien Internecivus Raptus Statue from Sideshow Collectibles
Super 7 – The San Francisco based designer toy and apparel company has developed several toys in honor of the Alien Day: Alien Muscle figures on card; Alien ReAction carrying case with exclusive Alien figure; Nostromo playset Kit Bash kit; Japanese vinyl Queen and Aliens Glassware
Loot Crate – The monthly mystery subscription box for pop culture fans will launch a limited-edition Aliens 30th Anniversary crate on 4/26 filled with exclusive merchandise, collectibles and more from all core licensee partners.
Medicom Toy – Japan-based toy company Medicom Toy will release VCD (vinyl super deformed) Alien figure and retro style ALIEN figure via Diamond Comics
USAopoly – Launches a pair of classic board games with a thrilling twist: Yahtzee Alien vs Predator and Clue: Alien vs Predator
Hollywood Collectibles to release a large-scale model of the Derelict from Alien, molded from an original model that H.R. Giger created for an exhibition in Las Vegas
NECA announces the first ever Lieutenant Vasquez (Jenette Goldstein) and Newt (Carrie Henn) figure; as well as the release of a Kenner toy-Inspired Ellen Ripley figure
Funko LLC is delivering an Aliens Queen & Power Loader and Ripley figure set in the tradition of their wildly popular ReAction retro action figure series.
Dark Horse Comics expounds upon Brian Wood and Tristan Jones' ongoing Aliens comic book series with exclusive covers for participating retailers and a deluxe 30th anniversary hardcover version of the original Aliens series from 1986
Titan Books launches the brand-new novel Alien: Invasion (The Rage War book 2) by Tim Lebbon
Available on Audible; a brand new audio drama, Alien: Out of the Shadows – starring Rutger Hauer (Blade Runner and Batman Begins) in his first audio role, Matthew Lewis (Harry Potter film series) and Corey Johnson (The Bourne Ultimatum) is a terrifying fight for survival and an intense struggle between human and artificial intelligence.
Alien and Aliens Double Feature
But if you're not looking to spend money on stuff that you'll throw on a shelf, maybe you'd just rather go see Alien and Aliens on the big screen. Select Alamo Drafthouse locations and other unnamed partner venues will have a double feature of the first two movies in the franchise. If you pre-order your ticket, you'll get a Mondo-designed t-shirt that will only be available at those screenings, and there will be other exclusive Alien apparel, accessories, posters and records from Mondo available for purchase. You can get a full list of participating theaters with screenings on Alien Day (also on Saturday, April 30th) right here.
Alien: Ultimate Trivia Challenge
Finally, for 24 hours on Twitter, there will be an Alien: Ultimate Trivia Challenge. Every 42.6 minutes there will be a new trivia question from the official Alien Anthology Twitter account (@AlienAnthology). But to get involved, you'll have to pre-register your Twitter handle over at the official Alien Anthology website. For your trouble, each trivia question will have various prize packages from the aforementioned licensing partners. To win, you'll have to reply to the question tweet with the right answer and the hashtags #AlienDay426 #Contest.
Oh, and don't forget that Alien: Covenant will be coming to theaters on August 4th, 2017. Could we get a teaser trailer on Alien Day? That seems doubtful, but you never know. Stay tuned for more news on Alien Day goodies.