'Men & Chicken' Trailer: These Brothers Really Like Chickens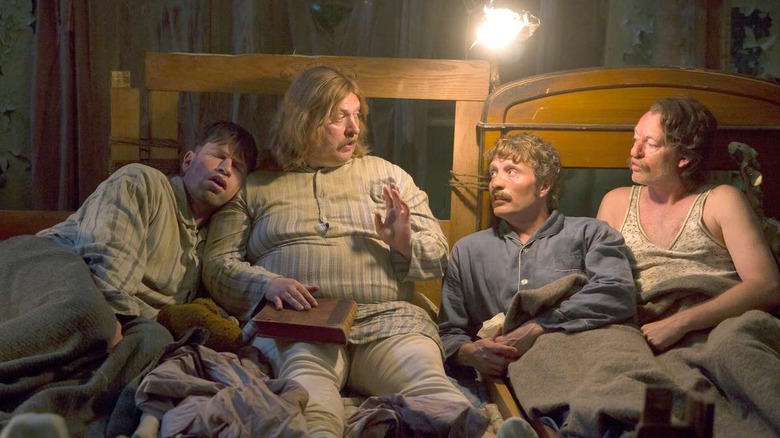 Without a doubt, we won't witness another comedy quite like Men & Chicken this year. I was lucky enough to see the film at Fantastic Fest a few months ago, following its premiere at the Toronto International Film Festival, and it's an offbeat story about family that grows richer and funnier with time.
Below, watch the Men & Chicken trailer.
Mads Mikkelsen (Hannibal) and David Denick (Tinker Tailor Soldier Spy) star in writer-director Anders Thomas Jensen's strangely sweet Danish comedy. This is Jensen's third collaboration with Mikkelsen, who continues to show the actor in a new light, at least to audiences more accustomed to the actor's manlier performances. In Men & Chicken, Mikkelsen and Jensen go to some surprising places together.
See a family unite in this trailer for Men & Chicken (source: EW):
It's a shame they included that final comedic beat in the trailer. It's not a huge spoiler or anything — and it's a funny interaction, so it makes sense to include it — but that's a reveal that probably would've been best left unspoiled.
As dark and as bizarre as Men & Chicken can get, it's a surprisingly kindhearted story about accepting your family, flaws and all. This family has some pretty notable flaws, too, so it's both funny and, at times, kind of sweet to see them come together.
Any fan of Mikkelsen's work should seek the film out. The actor, along with the rest of the cast, completely commit to the tone Jensen is going for. It is a big, broad comedy, but Mikkelsen and his co-stars bring a surprising amount of humanity to their characters, no matter how ridiculous the circumstances get.
Here's the official synopsis for Men & Chicken:
Men & Chicken is a darkly hilarious slapstick comedy starring Mads Mikkelsen ("Hannibal," ingeniously cast against type) about a pair of socially-challenged siblings who discover they are adopted half-brothers in their late father's videotaped will. Their journey in search of their true father takes them to the small, insular Danish island of Ork, where they stumble upon three additional half-brothers-each also sporting hereditary harelips and lunatic tendencies-living in a dilapidated mansion overrun by barn animals. Initially unwelcome by their newfound kin, the two visitors stubbornly wear them down until they're reluctantly invited to stay. As the misfit bunch get to know each other, they unwittingly uncover a deep family secret that ultimately binds them together.
This inventively bizarre and outlandish comedy is directed by acclaimed, Oscar®-winning director Anders Thomas Jensen and also stars David Dencik (The Girl With The Dragon Tattoo.)
Men & Chicken opens in theaters April 22nd.